Lucas County Democrats on Wednesday proposed outreach and legislation they hope will restore voter registrations in light of a U.S. Supreme Court decision.
The court this week upheld Ohio's system of cleaning its voter rolls. Dating to 1994, it involves mailing a card confirming residency to those who have not voted in two years. They are removed if they fail to respond or vote for four subsequent years.
This ruling could potentially cause the loss of voting rights for thousands of Lucas County residents and hundreds of thousands of Ohioans, party Chairman Kurt Young said.
"The Democratic Party takes the right for all to vote seriously," Mr. Young said.
WATCH: Democratic party voting news conference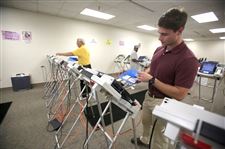 Luke Powell loads memory cards into machines for counting at the Lucas County Board of Elections in Toledo on Sept. 12, 2017.
THE BLADE
Enlarge | Buy This Image
Mr. Young and other party leaders spoke during a news conference Wednesday at One Government Center. They encouraged residents to check their voter status on the board of elections Web page.
Plans include using public records at the board of elections to contact voters who may lose the right to vote, Mr. Young said.
"Again, we're not going to look at party ID. It's going to be Democrat, Republican, independent, Green, Libertarian. We're going to make sure they know about it," Mr. Young said.
Cleaning voter rolls is necessary, but here Ohio Secretary of State Jon Husted is acting in an aggressive way advantageous to the Republican Party, Mr. Young said.
Toledo City Councilman Nick Komives said in two weeks he will introduce legislation making it easier to update voter information and register for the first time.
A worker would offer the option as residents pay their water bill in person. It's similar to the state's program at the bureau of motor vehicles, he said.
Sam Rossi, a spokesman for Mr. Husted, said the process in the 1980s was significantly more stringent. This current setup, which Democrats and Republicans have used, follows the federal law of maintaining accurate and clean voter rolls, he said.
The office allows both online change of address and voter registration, Mr. Rossi said.
"It is easier than ever before to become an active participant in our democracy," Mr. Rossi said.
Contact Ryan Dunn at: rdunn@theblade.com, 419-724-6095, or on Twitter @RDunnBlade.
Guidelines: Please keep your comments smart and civil. Don't attack other readers personally, and keep your language decent. Comments that violate these standards, or our privacy statement or visitor's agreement, are subject to being removed and commenters are subject to being banned. To post comments, you must be a registered user on toledoblade.com. To find out more, please visit the FAQ.