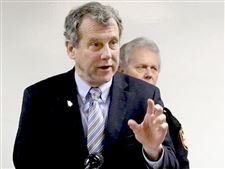 Sen. Sherrod Brown.
THE BLADE
Enlarge | Buy This Image
WASHINGTON — Several provisions of the 2018 Farm Bill could help improve Lake Erie water quality, U.S. Sen. Sherrod Brown (D., Ohio) said.
Mr. Brown told reporters Wednesday that the bill, sent up by the Senate Agriculture Committee, brings a greater focus to improved soil health and water quality. It also brings more support to small and medium-sized dairy producers, and protects the Supplemental Nutrition Assistance Program, or SNAP, for needy families.
He is the first Ohioan to serve on that committee in more than 40 years. Joining him on the call was Cathann Kress, dean of Ohio State's College of Food, Agricultural, and Environmental Sciences.
Guidelines: Please keep your comments smart and civil. Don't attack other readers personally, and keep your language decent. Comments that violate these standards, or our privacy statement or visitor's agreement, are subject to being removed and commenters are subject to being banned. To post comments, you must be a registered user on toledoblade.com. To find out more, please visit the FAQ.