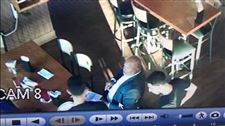 A security camera still shows Toledo Councilman Tyrone Riley speaking with business owners Mohamed and Akram Mamoud at Andy's Sports Bar and Jojo's Pizza, located at 4941 Dorr St. in Toledo.
Editor's note: This story has been update to include information from a restaurant receipt.
The brothers said he dashed; the councilman said he didn't even dine.
A dispute over a city councilman's bar tab went public Wednesday when Tyrone Riley and the owners of Andy's Bar and Grill exchanged tense words before beer-sipping patrons.
Owners of a South Toledo bar and pizzeria filed a complaint with police alleging Mr. Riley attempted to leave the restaurant without paying his bill, a move they said the councilman has pulled before.
Two brothers, Mohamed and Akram Mahmoud, took over ownership of Andy's Sports Bar and Jojo's Pizza, located at 4941 Dorr St., in January. They told The Blade Wednesday evening that Mr. Riley has dined there without paying two times in the past and that he tried to dine and dash for a third time Tuesday by citing his relationship with a previous owner.
Mr. Riley appeared bar-side Wednesday evening while The Blade was viewing security footage at the restaurant. The impromptu meeting between the brothers and the councilman escalated as they traded opinions and, on occasion, insults.
"I don't know you!" Mohamed Mahmoud said.
"I don't know you either!" Mr. Riley retorted. "All I'm saying is I actually offered to pay the bill."
"You did? I caught you on video."
"I understand. I didn't offer to pay it?"
"No, you didn't."
"I did offer to pay it."
Mohamed Mahmoud told police that, when confronted Tuesday, Mr. Riley said he did not need to pay because he is on city council, according to a Toledo police incident report. The owner told The Blade that after an extended back-and-forth, he crumpled the receipt, said he did not want Mr. Riley's money anymore, and told the councilman to leave.
The police report listed the bill as $76, but a receipt shows the exact amount was $68.14, which included purchases of tacos, chicken wings, french fries, three Bud Lights, a Corona, and other items.
Mr. Riley told The Blade that he had a "relationship" with the previous owner and was not aware that ownership had changed. He believed Tuesday's bill would be added to the running tab he kept at the restaurant.
"I'm always paying my bills, always pay my way," said Mr. Riley, who is up for re-election in 2019. "That's just the way I conduct my business."
Restaurant security footage viewed by The Blade showed Mr. Riley entering the restaurant Tuesday and joining several acquaintances at a large table — for a campaign meeting, the councilman later said — while Mohamed Mahmoud watched from beside the bar. After most of those dining with Mr. Riley left the restaurant, both Mahmouds approached Mr. Riley and spoke with him for several minutes.
The footage shows Mr. Riley gesticulating and handing his phone to Mohamed Mahmoud. He wanted the brothers to speak with the previous owner, he told The Blade. Mr. Riley denied ever having received special treatment at the restaurant.
"If I got a discount, it's the same discount as anyone else," Mr. Riley said. "If I owed a bill, if we left without paying a bill here, we pay for it later."
The incident marks the third time in two years that a sitting city councilman has run into trouble at a Toledo watering hole. In February, 2017, then-City Council President Steven Steel was found in a downtown parking lot, unconscious and bleeding from his head. A video shows Mr. Steel drinking heavily — at least three beers and two shots in about 20 minutes — at Table Forty 4 shortly before he suffered the head injury. Last fall, City Councilman Larry Sykes was arrested after punching a local activist at an Adams Street bar.
Council President Matt Cherry said in a statement Wednesday night that council members should be held to "the highest ethical standard."
"If these allegations are true, this is conduct unbecoming of a member of Toledo City Council," he said. "I have complete confidence that our Police Department will make a full investigation of this matter and the facts will speak for themselves."
Mr. Riley said he did not order food on Tuesday, though his companions did. He added that he has never "extorted" the business.
"I could have just swept under the rug and just ignored it," Mohamed Mahmoud countered. "Why should this be allowed to happen? It's extortion."
As their debate heated up Wednesday evening, Mr. Riley and the brothers moved outside.
"You got a Cadillac!" a furious Mohamed Mahmoud shouted as Mr. Riley walked to his car. "You're representing the city of Toledo, bro!"
The brothers called the police; the councilman shook his head.
"And I can't drive a Cadillac?"
Staff writer Sarah Elms contributed to this report.
Contact Lily Moore-Eissenberg at lillianme@theblade.com, 419-724-6368, or on Twitter @LilyM_E.
Guidelines: Please keep your comments smart and civil. Don't attack other readers personally, and keep your language decent. Comments that violate these standards, or our privacy statement or visitor's agreement, are subject to being removed and commenters are subject to being banned. To post comments, you must be a registered user on toledoblade.com. To find out more, please visit the FAQ.