Editor's note: This story has been update to include information from a restaurant receipt.
Toledo police detectives are investigating allegations that City Councilman Tyrone Riley left a local restaurant without paying the bill his companions racked up during a campaign meeting Tuesday.
Mohamed Mahmoud, the owner of Andy's Bar on Dorr Street, filed a complaint with police Wednesday alleging that Mr. Riley attempted to leave his establishment without paying and has done so in the past.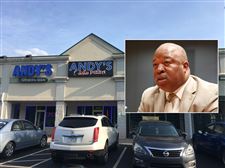 Toledo Councilman Tyrone Riley is accused of a dine-and-dash on Tuesday, July 10, 2018 at Andy's Sports Bar and Jojo's Pizza, located at 4941 Dorr St.
THE BLADE/Lillian Moore-Eissenberg
Enlarge | Buy This Image
Mr. Riley has denied the accusations, calling Tuesday's incident "a complete misunderstanding. A total misunderstanding." He cited a relationship with the previous bar owner who he claimed allowed him to run a tab when he hosted meetings and events. The previous owner would then send the councilman a bill at a later date, at which point he would pay, Mr. Riley said.
Attempts to contact the previous owner were unsuccessful Thursday.
The Toledo Police Department's property crimes section is handling the case and working with the Toledo prosecutor's office to determine whether charges will be filed, Toledo police Lt. Kevan Toney, a department spokesman, told The Blade.
"I'm aware of the investigators speaking with witnesses and conducting interviews as late as this early evening," he said late Thursday afternoon.
On Wednesday evening Mr. Riley appeared again at Mr. Mahmoud's bar after learning of the police complaint from The Blade. A Blade reporter was viewing security footage at the venue when he arrived and witnessed the councilman and bar owner argue over whether Mr. Riley had offered to pay his bill on Tuesday.
He ultimately left with the tab still outstanding. A police report listed the bill as $76, but a receipt shows the exact amount was $68.14, which included purchases of tacos, chicken wings, french fries, three Bud Lights, a Corona, and other items.
The footage from Tuesday showed Mr. Riley joining a group of acquaintances at a table and speaking with Mr. Mahmoud after his companions had dined and departed.
After several minutes — during which time Mr. Riley contacted the restaurant's previous owner — Mr. Mahmoud crumpled Mr. Riley's receipt and told him to leave, Mr. Mahmoud said on Wednesday.
"I woke up this morning, I called the ethics commission, I called city council, and I called the Toledo Police Department because I do not want this to happen again and I do not want this person here," he said. "And here's the worst part. He's doing it to us. How many people is he doing it to?"
Mr. Mahmoud told The Blade and Mr. Riley on Wednesday that he planned to press charges, but on Thursday he referred all questions to his attorney, Jeff Goldstein. Mr. Goldstein could not be reached for comment.
Paul Nick, executive director of the Ohio Ethics Commission, said he could not comment on whether the state agency has received any complaints.
Mr. Nick did say broadly that any city councilman who receives a gift in excess of $75 must disclose the source on financial disclosure forms, which officials are required to submit annually to the state.
"Somebody who knowingly fails to disclose that could be charged with falsification, which is a first-degree misdemeanor," he said.
Mr. Riley's most recent financial disclosure statement is for 2017 and states he did not have any sources of gifts or sources of meals, food, or beverages that he was required to list under ethics rules for that year.
Contact Lily Moore-Eissenberg at lillianme@theblade.com, 419-724-6368, or on Twitter @LilyM_E.
Guidelines: Please keep your comments smart and civil. Don't attack other readers personally, and keep your language decent. Comments that violate these standards, or our privacy statement or visitor's agreement, are subject to being removed and commenters are subject to being banned. To post comments, you must be a registered user on toledoblade.com. To find out more, please visit the FAQ.