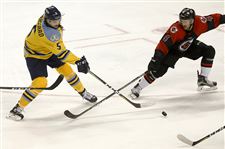 Toledo's Austen Brassard pushes past Cincinnati's Chris Leone during a game in December. The Walleye and Cyclones meet Friday night in the Huntington Center.
BLADE/KATIE RAUSCH Enlarge
Walleye Watch
vs. Cincinnati
When: 7:15 p.m.
TV: BCSN
Radio: 1230 AM
Breakdown: Toledo (20-9-3) has won three of four and six of its past 10. Cincinnati (19-11-1) has won seven of its past 10. The Walleye lead the Central Division with 43 points and the Cyclones are third with 39. … The Walleye, who are 11-3-0 at home, play the next five games at the Huntington Center. They host Manchester on Saturday. The Cyclones are 9-7-0 on the road. … Toledo is 2-1-0 against Cincinnati. … Toledo finished with another winning month in December (7-5-1). The last time the Walleye did not have a winning month was April, 2014. … Toledo ranks third in the league in goals against per game (2.72), while Cincinnati ranks sixth (2.81). The Walleye are 10th in the ECHL in scoring (3.34 per game), while the Cyclones are 11th (3.26). … Toledo has the second-best penalty kill rate (88.6 percent). Cincinnati's penalty kill ranks 25th at 78.1 percent. The Walleye's power play is ranked 13th (18.0 percent) and the Cyclones' is 15th (17.1). … Forward Erik Bradford leads Toledo in scoring with 26 points (9 goals, 17 assists) in 27 games. Forward Christian Hilbrich ranks second with 25 points, including a team-high 13 goals, in 32 games. Goalies Pat Nagle (16-2-2 with a 2.61 goals-against average) and rookie Matej Machovsky (4-6-1, 2.50 GAA) are alternating starts in net. … Cincinnati is led by rookie forward Justin Danforth, who has 37 points (18 goals, 19 assists) in 31 games, and rookie goaltender Jonas Johansson (5-4-0, 3.02 GAA). … The first 2,000 fans at Friday's game will receive a bobblehead of captain Alden Hirschfeld.
Guidelines: Please keep your comments smart and civil. Don't attack other readers personally, and keep your language decent. Comments that violate these standards, or our privacy statement or visitor's agreement, are subject to being removed and commenters are subject to being banned. To post comments, you must be a registered user on toledoblade.com. To find out more, please visit the FAQ.