Toledo Walleye goaltender Pat Nagle was named to the ECHL all-star team Thursday, when the league announced the rosters.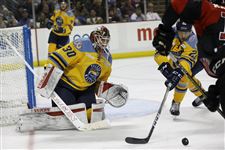 Toledo's goalie Pat Nagle rebuffs a shot on goal against Cincinnati.
BLADE Enlarge
Nagle, a veteran goalie who is in his first season with Toledo, will play for the Central Division all-stars. The game will be played at 1 p.m. Jan. 15 at Indiana Farmers Coliseum in Indianapolis
Nagle, who is 16-2-2 this season and leads the ECHL in wins, is the only Walleye player who was selected to the team. Nagle has a 2.61 goals-against average and a .910 save percentage.
The 30-year-old from Bloomfield, Mich., was named the ECHL goalie of the month for November. He also was named goalie of the week in late October.
Walleye coach Dan Watson said Nagle deserves the honor.
"He's a true pro who competes every day," Watson said. "He provides us an opportunity to win games each start. We are fortunate to have him in Toledo."
This is the first time Nagle has been selected to the league's all-star game. He has a career record of 139-61-26 with a 2.61 GAA and a .911 save percentage.
Nagle ranks fifth in the league in minutes played with 1,241 this season.
He has provided a steady veteran presence in net for Toledo, which leads the Central Division with a 20-9-3 record. Nagle started in 12 of the team's first 15 games.
Nagle moved into 25th place on the ECHL's career shutouts list with his 3-0 win Oct. 21 against Quad City. Nagle posted his 11th career shutout in Toledo's home opener.
All 27 teams in the league will have one representative in the all-star game. Only the host Indy Fuel will have more than one player on the team.
The all-star rosters feature 27 first-time selections, 13 rookies, and eight players who have been selected in the NHL draft.
For the first time, the format will feature not two but four teams representing each of the league's divisions. The four teams will compete in a 3-on-3 tournament in order to crown a winner.
More than 65 players from the ECHL all-star game have gone on to play in the NHL.
The rosters were determined in a vote of coaches, team captains, media relations directors, broadcasters, and members of the media.
Watson was selected to be the coach in last year's game. The coaching staffs for this year's game will be announced Friday.
The 2018 festivities begin Jan. 14 with interactive exhibits, including displays of ECHL and NHL trophies and memorabilia. The league's 11th Hall of Fame class will be inducted Jan. 15.
Contact Mark Monroe at: mmonroe@theblade.com, 419-724-6354, or on Twitter @MonroeBlade.
Guidelines: Please keep your comments smart and civil. Don't attack other readers personally, and keep your language decent. Comments that violate these standards, or our privacy statement or visitor's agreement, are subject to being removed and commenters are subject to being banned. To post comments, you must be a registered user on toledoblade.com. To find out more, please visit the FAQ.