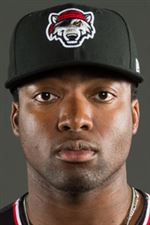 Stewart
The Tigers will open spring training on Feb. 13, which means baseball season is coming. Here is a daily look at players with possible ties to the 2018 Mud Hens, whose home opener is set for April 12 vs. Pawtucket.
OF Christin Stewart
History: The Tigers drafted Stewart in the first round of the 2015 draft out of the University of Tennessee, and the 24-year-old has made steady progress through the minors. After hammering 30 home runs with two teams in 2016, Stewart led the Eastern League with 28 home runs with Double-A Erie last season. He was named to the Eastern League's postseason all-star team and was the Tigers minor-league position player of the year last season. Stewart led the EL with 60 extra-base hits thanks to 29 doubles and the home runs, but he also struck out 138 times in 136 games.
Future: Stewart is considered one of the top prospects in Detroit's minor-league system thanks to his power potential. His strikeout totals are a concern, as is his defense. But Tiger fans in Toledo will get a chance to judge him first-hand as he is expected to begin the season with the Mud Hens.
Guidelines: Please keep your comments smart and civil. Don't attack other readers personally, and keep your language decent. Comments that violate these standards, or our privacy statement or visitor's agreement, are subject to being removed and commenters are subject to being banned. To post comments, you must be a registered user on toledoblade.com. To find out more, please visit the FAQ.