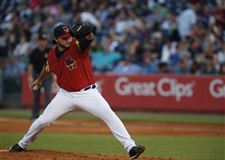 Reliever Bryan Garcia rose from Single-A to Toledo during the 2017 baseball season.
Blade/Jetta Fraser Enlarge
The Tigers are expected to open spring training on Feb. 13, which means baseball season is coming. Here is a daily look at players with possible ties to the 2018 Mud Hens, whose home opener is set for April 12 vs. Pawtucket.
RHP Bryan Garcia
History: Garcia has shot through the Detroit farm system after the Tigers drafted him in the sixth round of the 2016 draft out of the University of Miami. The reliever began last season at Lo-A West Michigan and had a 1-2 record with nine saves and a 3.14 ERA to earn a promotion to Hi-A Lakeland, where he went 2-0 and did not allow a run in seven appearances. Garcia then was called up to Double-A Erie and was 1-0 with eight saves and a 0.96 ERA with the Seawolves before joining the Mud Hens last season. In Toledo, Garcia was 1-0 with a 4.05 ERA in 14 appearances.
Future: The 22-year-old Garcia is not on Detroit's 40-man roster, but he still will get a chance to begin the season in the Tigers bullpen. If he does not earn in a spot in the majors, he probably will begin the season with the Mud Hens.
Guidelines: Please keep your comments smart and civil. Don't attack other readers personally, and keep your language decent. Comments that violate these standards, or our privacy statement or visitor's agreement, are subject to being removed and commenters are subject to being banned. To post comments, you must be a registered user on toledoblade.com. To find out more, please visit the FAQ.