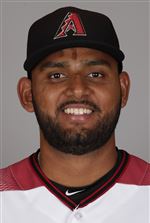 Burgos
ASSOCIATED PRESS Enlarge
The Tigers will open spring training on Feb. 13, which means baseball season is coming. Here is a daily look at players with possible ties to the Mud Hens, whose home opener is set for April 12 against Pawtucket.
RHP Enrique Burgos
History: The Tigers signed Burgos to a minor-league contract as a free agent. He originally pitched for Arizona in 2015 (2-2, two saves, 4.67 ERA) and 2016 (1-2, one save, 5.66 ERA). Burgos began last season in Triple-A in Reno, where he had a 6.23 ERA before he was designated for assignment by Arizona and claimed by the Braves. He never pitched for Atlanta, though, instead posting a 5.24 ERA in 24 games with Gwinnett.
Future: The 27-year-old Panamanian is an intriguing free agent pickup because his fastball regularly sits at 96 mph; his problem has been control, as he has averaged roughly five walks per nine innings through his career. Burgos will compete for a spot in Detroit's bullpen, and if he does not earn a spot there, he probably will begin the season with the Mud Hens.
Guidelines: Please keep your comments smart and civil. Don't attack other readers personally, and keep your language decent. Comments that violate these standards, or our privacy statement or visitor's agreement, are subject to being removed and commenters are subject to being banned. To post comments, you must be a registered user on toledoblade.com. To find out more, please visit the FAQ.