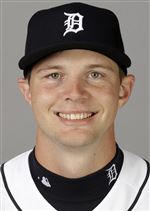 Greiner
ASSOCIATED PRESS Enlarge
The Tigers will open spring training on Feb. 13, which means baseball season is coming. Here is a daily look at players with possible ties to the 2018 Mud Hens, whose home opener is set for April 12 against Pawtucket.
C Grayson Greiner
History: The Tigers drafted Greiner in the third round of the 2014 draft out of the University of South Carolina, and the 6-6 catcher has made steady progress through Detroit's system. He spent most of last season with Double-A Erie, where he batted .241 with 14 home runs and 42 RBIs in 98 games. Late in the season he was promoted to the Mud Hens and batted .143 in six games. He also played in one late-season game for Toledo in 2016 and was hitless in four at-bats. Greiner's 14 home runs last season doubled his previous career high.
Future: Greiner is considered one of the better prospects in the Tigers farm system, especially after he threw out 29-of-78 potential base-stealers (37 percent) for the SeaWolves last season. He will see plenty of action behind the plate for the Mud Hens.
Guidelines: Please keep your comments smart and civil. Don't attack other readers personally, and keep your language decent. Comments that violate these standards, or our privacy statement or visitor's agreement, are subject to being removed and commenters are subject to being banned. To post comments, you must be a registered user on toledoblade.com. To find out more, please visit the FAQ.