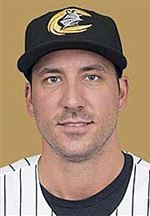 Aumont
The Tigers will open spring training Feb. 13, which means baseball season is coming. Here is a daily look at players with possible ties to the 2018 Mud Hens, whose home opener is set for April 12 vs. Pawtucket.
RHP Phillippe Aumont
History: The Tigers signed Aumont to a minor-league contract after he pitched last season for Ottawa in the independent Can-Am League. He made 17 starts with the Champions, and posted a 5-8 record with a 5.62 ERA He did throw a no-hitter against a team from the Dominican Republic on June 28. The 11th overall pick in the 2007 draft by Seattle, the hard thrower was sent to the Phillies as part of the 2010 Cliff Lee trade. He pitched for Philadelphia in parts of four seasons (2012-15) but had 34 walks and five wild pitches in 43⅔ innings in the majors.
Future: Aumont has pitched in the International League for Lehigh Valley (2011-15), Buffalo (2015), and Charlotte (2016). If he can conquer the command issues that have resulted in 199 walks, 17 hit batsmen, and 57 wild pitches in 253⅔ innings in Triple-A, he could become a force in the Hens' bullpen.
Click here for a full list of Mud Hens spring training bios.
Contact John Wagner at jwagner@theblade.com, 419-724-6481, or on Twitter @jwagnerblade.
Guidelines: Please keep your comments smart and civil. Don't attack other readers personally, and keep your language decent. Comments that violate these standards, or our privacy statement or visitor's agreement, are subject to being removed and commenters are subject to being banned. To post comments, you must be a registered user on toledoblade.com. To find out more, please visit the FAQ.