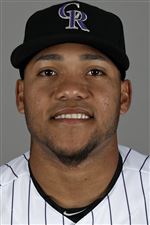 Amarista
ASSOCIATED PRESS Enlarge
The Tigers will open spring training on Feb. 13, which means baseball season is coming. Here is a daily look at players with possible ties to the 2018 Mud Hens, whose home opener is set for April 12 vs. Pawtucket.
IF Alexi Amarista
History: The Tigers signed Amarista to a minor-league contract after he spent last season with Colorado, batting .238 with three homers and 19 RBIs in 96 games. The native of Venezuela first reached the majors with the Los Angeles Angels in 2011 at age 22 and also played one game for the Angels in 2012 before he was traded to San Diego. Amarista spent five seasons with the Padres; his best year offensively was in 2014, when he batted .239 with five homers, 40 RBIs, and 12 stolen bases.
Future: Amarista, who will turn 29 in early April, received an invite to major-league spring training. Last season he played every defensive position except catcher and first base; that versatility will earn him an opportunity for a reserve role in Detroit. If he does not earn that job, expect him to begin the season in Toledo.
Click here for a full list of Mud Hens spring training bios.
Contact John Wagner at jwagner@theblade.com, 419-724-6481, or on Twitter @jwagnerblade.
Guidelines: Please keep your comments smart and civil. Don't attack other readers personally, and keep your language decent. Comments that violate these standards, or our privacy statement or visitor's agreement, are subject to being removed and commenters are subject to being banned. To post comments, you must be a registered user on toledoblade.com. To find out more, please visit the FAQ.