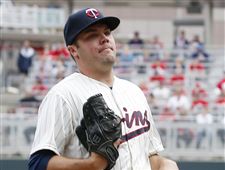 Caleb Thiebar during a 2015 game with the Minnesota Twins.
ASSOCIATED PRESS Enlarge
The Tigers will open spring training Tuesday, which means baseball season is coming. Here is a daily look at players with possible ties to the 2018 Mud Hens, whose home opener is set for April 12 vs. Pawtucket.
LHP Caleb Thielbar
■ History: The Tigers signed Thielbar to a minor-league contract after he pitched for St. Paul in the independent American Association the past two seasons. In 2016, he was 5-2 with a 2.39 ERA in 42 games with the Saints. He was 2-1 with a 2.01 ERA in 17 games for St. Paul in 2017. Thielbar made his major-league debut with Minnesota in 2013, posting a 3-2 record with a 1.76 ERA in 49 games. He was 2-1 with a 3.40 ERA in 54 appearances with the Twins in 2014, but in 2015 Thielbar had a 5.40 ERA in six games with Minnesota.
■ Future: Thielbar, who turned 31 on Jan. 31, has a history of success against left-handers, especially in three seasons he pitched with Triple-A Rochester (2012-13, 2015). He was not invited to spring training with Detroit, meaning he probably will begin this season in the Hens bullpen.
Click here for a full list of Mud Hens spring training bios.
Contact John Wagner at jwagner@theblade.com, 419-724-6481, or on Twitter @jwagnerblade.
Guidelines: Please keep your comments smart and civil. Don't attack other readers personally, and keep your language decent. Comments that violate these standards, or our privacy statement or visitor's agreement, are subject to being removed and commenters are subject to being banned. To post comments, you must be a registered user on toledoblade.com. To find out more, please visit the FAQ.