The Toledo Walleye performed like the top team in the ECHL on Friday night, unleashing a relentless onslaught of goals in a drubbing of a struggling Quad City team.
Toledo exploded for six goals in the final two periods, including a quick flurry in the second, to crush Quad City 8-0.
Toledo (41-14-5), which leads all of the ECHL with 87 points, clinched a return to the ECHL's Kelly Cup Playoffs with the trouncing of the last-place Mallards (20-36-4) and Kansas City's overtime loss at Idaho. It was the largest margin of victory for the Walleye this year.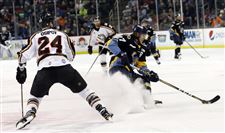 Toledo's A.J. Jenks kicks the puck back under pressure from Quad City's Dmitry Osipov during an ECHL game Friday, March 9, 2018 at the Huntington Center.
Blade/Katie Rausch Enlarge
Mike Borkowski and Austen Brassard each scored two goals. The Walleye have won seven of their past eight.
Goalie Pat Nagle (29-4-4) earned his third shutout of the season and built on his ECHL lead in total wins with a relatively easy evening with 17 saves. He is now tied for the league lead in shutouts.
Zach Nastasiuk, Colin Jacobs, Kyle Bonis, and Shane Berschbach also scored. Simon Denis, Christian Hilbrich, and A.J. Jenks each had two assists. Berschbach finished with a goal and two assists. Bonis had a goal and an assist.
"It's the depth of our team," Walleye coach Dan Watson said. "It doesn't matter who is in the lineup. As long as everyone is pulling on that same rope, that's the kind of fun we can have. We wanted to make sure we were playing at a high level regardless of what team you are playing."
PHOTO GALLERY: Walleye 8, Mallards 0
VIDEO: Walleye-Mallards
Toledo led 2-0 after the first period on goals from Borkowski and Nastasiuk. The Walleye then blew it wide open with three goals in the first 9 minutes, 51 seconds of the second. Borkowski and Brassard scored goals exactly 30 seconds apart for a 4-0 cushion.
"I'm proud of our effort," Borkowski said. "We are deep. If it's not one line doing it, it's another line doing it. We have a lot of guys on this team that can score and make plays. That was evident tonight."
Quad City has lost eight of nine. Toledo finished with a 34-17 advantage in shots on goal, including 23-8 in the final two periods. The biggest all-time lopsided win came in a 12-0 shutout of Gwinnett at home Feb. 22, 2015.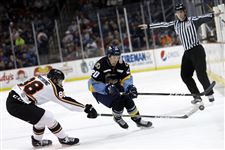 Quad City's Travis Armstrong (88) and Toledo's Mike Borkowski race to the puck.
Blade/Katie Rausch Enlarge
Borkowski flipped a little backhander on the Mallards net and it somehow got by Quad City goalie Eric Hartzell, who finished with 26 saves, to make it 3-0.
Brassard then put Toledo up 4-0 seconds after the ensuing faceoff on a rebound. Brassard then scored on his next shot to put the Walleye up by five goals near the game's halfway mark.
Nagle was not tested much early but made his best stop with 5:38 left in the second.
On the game's first goal, Berschbach set up Borkowski's one-timer as Toledo was in the early stages of a 5-on-3 power play.
"It's the next man-up mentality," Borkowski said. "That bodes well for us going forward. I really liked how we stuck to our structure. We were stingy in front of Nags."
Hilbrich then came up with a remarkable assist. While he was prone on the ice, Hilbrich got the puck to Nastasiuk, who fired it into an open net to make it 2-0 with 2:44 left in the first.
Jacobs joined the fun, as he scored 2:28 into the third on an assist from Hilbrich. Bonis then scored his 19th of the season with 15:59 left on an assist from Jenks. Berschbach scored on snipe shot with 4:03 left in regulation for the final margin.
Watson said he was particularly pleased all eight goals were scored within 15 to 20 feet of the net.
"We scored in a lot of different ways tonight," he said. "I liked the fact we're getting pucks on net and crashing the net. Those are the kind of goals you have to score in the playoffs. Those are the hard to score areas. You have to want to get your nose dirty and be willing to take a hit."
The teams meet again at 7:15 p.m. Saturday as Toledo continues a three-game weekend homestand.
"Our guys were skating, and moving pucks and getting pucks to the net," Watson said.
It was a rare non-sellout at the Huntington Center with a crowd of 6,863 at the downtown arena.
LOCAL TIES: Northview graduate Dalton Carter, who signed with the team Wednesday, acquitted himself well in his pro debut. Carter, who led the Wildcats to the 2012 state title, recently wrapped up a college career at Utica College. The defenseman was on the ice for four of the team's goals and had two shots on goal.
Temperance native Kent Nusbaum served as Quad City's emergency back-up goalie. Nusbaum has served in the same capacity for the Walleye several times this season.
TRADE TALK: Before the game, Watson commented on the trade of forward Erik Bradford, the team's leading scorer, for defenseman Jamie Doornbosch in a deal with Brampton on Thursday.
"We were looking for a left shot, D-man," Watson said. "He's very steady. He can play a shutdown role. He can play an offensive role. He's very versatile. He's 28 and has a lot of experience. He's been up and down in the American League as well."
Doornbosch will not play for the team this weekend. He is in Toronto and must first deal with immigration paperwork. He is expected to be with the team for its trip Tuesday to Quad City.
Watson said it was difficult to give up Bradford, who had the worst plus-minus rating on the team at minus-7.
"The real people that know the ins and outs of hockey will understand there are parts of Erik's game [that] make him expendable," Watson said. "Everyone in this league has their flaws. He became expendable. It's tough. Erik's a great kid. He was here for the team."
Contact Mark Monroe at: mmonroe@theblade.com, 419-724-6354, or on Twitter @MonroeBlade.
Guidelines: Please keep your comments smart and civil. Don't attack other readers personally, and keep your language decent. Comments that violate these standards, or our privacy statement or visitor's agreement, are subject to being removed and commenters are subject to being banned. To post comments, you must be a registered user on toledoblade.com. To find out more, please visit the FAQ.