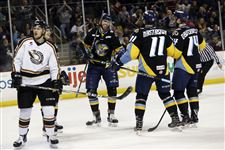 Toledo clinched its fourth straight playoff berth with an 8-0 win over Quad City on Friday. The Walleye lead the ECHL with 87 points.
Blade/Katie Rausch Enlarge
For the fourth straight season, the Toledo Walleye are heading back to the ECHL's Kelly Cup Playoffs.
The Walleye nailed down the playoff berth after an 8-0 win over Quad City on Friday coupled with Kansas City's overtime loss Friday night at Idaho. They sit at 41-14-3 — going 8-1-1 in their last 10 games — and lead the ECHL with 87 points.
Toledo won reached the conference semifinals in 2015 and '17 and lost in the first round in 2016.
Playoff tickets are on sale through the team website at ToledoWalleye.com.
Toledo is back in action Saturday when it hosts Quad City at 7:15 p.m. The Walleye also host the Indy Fuel on Sunday.
Guidelines: Please keep your comments smart and civil. Don't attack other readers personally, and keep your language decent. Comments that violate these standards, or our privacy statement or visitor's agreement, are subject to being removed and commenters are subject to being banned. To post comments, you must be a registered user on toledoblade.com. To find out more, please visit the FAQ.