The Toledo Walleye on Monday suspended recently acquired defenseman Jamie Doornbosch after he opted not to report to the team.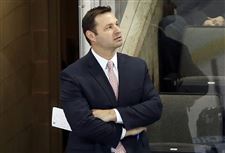 Toledo head coach Dan Watson said he's disappointed newly acquired defenseman Jamie Doornbosch will not be joining the team.
BLADE PHOTO Enlarge
The organization traded for Doornbosch in a deal with Brampton on Thursday in exchange for their leading scorer, Erik Bradford.
But Doornbosch told Walleye officials he has decided to pursue avenues other than hockey and will not be joining the organization.
"I'm disappointed because he [told Brampton officials] that he would report," Walleye coach Dan Watson said. "I'm glad he chose to quit now rather than getting to Toledo and quitting. We want players who want to be in Toledo. If you don't want to be here, we don't want you anyways."
Bradford, a 23-year-old forward, had tallied a team-high 45 points with 15 goals and 30 assists in 53 games this season.
Doornbosch, a 28-year-old defenseman, had appeared in 26 games this season for the Beast posting two goals and 12 assists.
"It was a difficult decision for Jamie," Watson said. "At this time he felt it was better to start another career than continue playing."
Watson said he still plans to bring in a high-end defenseman, most likely a recently graduated college player.
"With the depth on our roster we will continue to persevere in our quest to bring a Kelly Cup championship to the great fans of the Toledo Walleye," Watson said.
Bradford will remain in Brampton for the rest of this season. However, Brampton will be required to send a player to be named later to Toledo by June 13. The Walleye probably will not receive the compensation until the offseason.
It was Bradford's second stint with Toledo. He started the 2016-17 season with the Walleye before he was traded to Utah five games into the season.
Doornbosch, a Richmond Hill, Ont., native, had collected 12 penalty minutes. The second-year pro also has skated in four games this year in the American Hockey League with the Bellville Senators and another two games in Bakersfield.
Doornbosch, who is 6-foot-2 and 190 pounds, started the season in Wichita, where he collected a goal with seven assists and 12 penalty minutes for the Thunder. Doornbosch (pronounced dorn-bahsh) skated in 44 games in his rookie season (2016-17) with Wichita, posting 10 goals, 20 assists, and 32 penalty minutes.
In another transaction Monday, Grand Rapids assigned forward Luke Esposito to the Walleye. Esposito has five points in 13 games this season for Toledo.
Toledo (42-15-5) leads all of the ECHL with 89 points. The Walleye play Wednesday at Quad City.
Contact Mark Monroe at mmonroe@theblade.com, 419-724-6354, or on Twitter @MonroeBlade.
Guidelines: Please keep your comments smart and civil. Don't attack other readers personally, and keep your language decent. Comments that violate these standards, or our privacy statement or visitor's agreement, are subject to being removed and commenters are subject to being banned. To post comments, you must be a registered user on toledoblade.com. To find out more, please visit the FAQ.