Toledo Mud Hens first baseman Edwin Espinal has a nickname for his glove.
"I call my glove, 'The Mouth,'" he said after Toledo's 4-0 win Saturday against Pawtucket at Fifth Third Field. "I tell everybody to throw the ball however they can to me, and 'The Mouth' will help you."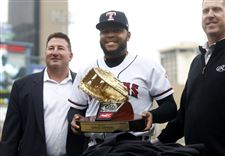 Mud Hens first baseman Edwin Espinal accepts the Gold Glove Award he earned for his defensive play last season.
Blade/Kurt Steiss Enlarge
Last season, Espinal and 'The Mouth' helped fielders in the Pittsburgh organization so much the native of the Dominican Republic was awarded a minor league Gold Glove for his efforts.
In 2017, Espinal was the only first baseman in the minors to post a perfect 1.000 fielding percentage. He played 81 errorless games at first base for Double-A Altoona in the Eastern League, then followed up with 27 flawless games for Indianapolis.
"Defense is very important, and I work very hard on my defense," he said. "A lot of people just concentrate on hitting, but you have to catch the ball if you want to play."
Toledo manager Doug Mientkiewicz, himself a former first baseman at the major-league level, said Espinal clearly knows what he is doing defensively at first base.
"The old adage is that you can stick anyone at first base, but I don't think that's true," Mientkiewicz said. "He's very athletic with a glove on his hand, and he's already saved us runs digging low throws out.
"He knows what he's doing, and it's a nice feeling having a guy who knows how to play the position playing there. You never notice a good one, but you always notice a bad one. And you won't notice Espinal."
But Mientkiewicz was quick to point out there is more to Espinal's game than just a sterling glove.
"He's a big guy along the lines of David Ortiz or Kennys Vargas," Mientkiewicz said. "He's a big, jovial guy, and my friend Andy Barkett — who had him as a player last year — raved about him as a player and as a person."
While Espinal went 0-for-4 with three strikeouts in the win against the PawSox, the young first baseman entered the game ranked 10th in the International League with a .375 batting average. Espinal had struck out only once in his first seven contests this season and three walks lifted him to a .464 on-base percentage.
"I try to stay in the middle of the field and hit the ball from gap to gap," Espinal said. "I try not to strike out too much, because I hate to walk back to the dugout."
Last season Espinal, who turned 23 in January, batted .283 with 15 homers — more than double his previous single-season high — along with 25 doubles and 72 RBIs for Altoona to earn a spot on the Eastern League's postseason all-star team. He also hit .323 in his month with Indianapolis, but did not have any home runs.
"The fact that he's batting seventh in our lineup is almost comical," Mientkiewicz said. "For him, the power has to come along a little more than it has shown, but I think it will come along.
"He's still 23, so he's still a puppy. But he's intriguing because he's young but he's a good hitter."
And with a little help from "The Mouth," he's a very good fielder.
Contact John Wagner at: jwagner@theblade.com, 419-724-6481, or on Twitter @jwagnerblade.
Guidelines: Please keep your comments smart and civil. Don't attack other readers personally, and keep your language decent. Comments that violate these standards, or our privacy statement or visitor's agreement, are subject to being removed and commenters are subject to being banned. To post comments, you must be a registered user on toledoblade.com. To find out more, please visit the FAQ.