Growing up in Nebraska, Toledo Mud Hens starting pitcher A.J. Ladwig said he has pretty much seen it all as far as weather conditions for a baseball game.
On a cold and damp night at Fifth Third Field on Saturday, Ladwig called on some of that experience from the Cornhusker State and had everything working as he, Johnny Barbato, and Mark Montgomery combined for a shutout in a 4-0 Mud Hens victory over Pawtucket.
"I kind of like pitching in these games, because you are the warmest person in the park," Ladwig said. You can throw a lot more fastballs, especially inside, because hitters don't want those inside fastballs on a cold day. It didn't really bug me that much throwing in this weather. Honestly I just worked off my fastball and had a great defense behind me, even in these conditions."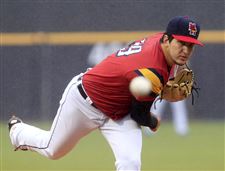 Toledo's A.J. Ladwig pitched 6.2 scoreless innings as the Mud Hens won 4-0 over Pawtucket.
BLADE/KURT STEISS Enlarge
PHOTO GALLERY: Mud Hens 4, Pawtucket 0
RELATED CONTENT: Espinal and "The Mouth" help Mud Hens' infield defense
While the Mud Hens played a clean defensive game in tough conditions, the Red Sox had trouble in the field all game long, committing five errors. As a result, all four Toledo runs were unearned.
Toledo jumped out to a 3-0 lead in the first inning on a Jim Adduci sacrifice fly, a Mikie Mahtook RBI single, and a Grayson Greiner bases-loaded walk.
VIDEO: Mud Hens 4, Red Sox 0
Ronny Rodriguez, the leadoff hitter for the Mud Hens, reached on an error in his first at bat, stole second and eventually came around to score on Adduci's sac fly.
After a 10-2 loss to Pawtucket on Friday night, the three first inning runs were key for the Mud Hens and manager Doug Mientkiewicz said the first Rodriguez at bat, with him laying down a bunt and challenging the defense, set the tone for the big inning.
"Ronny put pressure on them right away and obviously it was a smart baseball move to lay down a bunt with a wet ball," Mientkiewicz said. "He stole three bases tonight. No one wants to move around a lot and he did. There's a reason he is at the top of the order for us and that's because he gives us a spark and brings energy every night."
In the seventh inning, Rodriguez reached on another error, stole second base, and while stealing third came around to score after Pawtucket catcher Mike Ohlman's throw ended up in left field.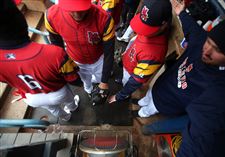 Toledo Mud Hens players huddle around a heater in the dugout.
Blade/Kurt Steiss Enlarge
That was all the cushion Toledo would need as their three pitchers were lights out. Ladwig's final line was 6.2 innings, with one hit, two walks, and four strikeouts. He threw 90 pitches with 61 for strikes.
"That's about as good of a pitching performance as you are going to see in these conditions," Mientkiewicz said. "It's not ideal for hitters, but you still have to make pitches and [Ladwig] did all game long. It's a shame that the pitch count hit him, because he probably could have gone 12. We needed it bad and he definitely did his job for sure."
Barbato came in for four outs and allowed one hit, and Montgomery worked around a two-out double in the ninth to close out the game.
Ladwig moves to 2-0 on the season and lowers his ERA to 0.77 early on.
"He spotted his fastball in and out and the breaking ball was there and the changeup was down," Mientkiewicz said. "That team can hit, so that's as good as I've seen him and it was needed."
Ladwig worked quickly on the mound and allowed his defense to do their job behind him.
"They played outstanding and I couldn't have done it without them behind me," Ladwig said. "Even with the infield as wet as it was, we were still making some great plays and we have a solid defense out there."
Contact Brian Buckey at bbuckey@theblade.com, 419-724-6110, or on Twitter @BrianBuckey.
Guidelines: Please keep your comments smart and civil. Don't attack other readers personally, and keep your language decent. Comments that violate these standards, or our privacy statement or visitor's agreement, are subject to being removed and commenters are subject to being banned. To post comments, you must be a registered user on toledoblade.com. To find out more, please visit the FAQ.