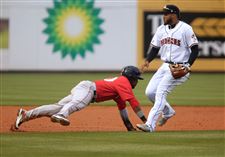 Toledo's Dawel Lugo, right, is about to tag out Pawtuckets Aneury Tavarez to end a rundown in Saturday's contest. Lugo ranks among the International League's top hitters early this season.
Blade/Kurt Steiss Enlarge
Durham Bulls at Toledo Mud Hens
■ Time: 6:35 p.m.
■ Records/standings: Durham 4-5, 2nd in IL South; Toledo 6-3, 1st in IL West
■ TV: BCSN
■ Radio: 1230 AM
■ Starting pitchers: Toledo RHP Warwick Saupold (0-0, 7.71 ERA) v. Durham LHP Anthony Banda (2-0, 0.87 ERA)
■ Sunday's game: Drenching rain, wind and cold temperatures forced the postponement of the contest between the Mud Hens and Pawtucket at Fifth Third Field.
■ Transactions: Before Sunday's game the Mud Hens added LHP Josh Turley to the roster from Double-A Erie. RHP Phillippe Aumont was sent to the SeaWolves to make room for Turley on the Toledo roster.
■ Weather: The good news is that there's only a 50 percent chance of rain Monday. But the bad news is that the high is expected to be 38 degrees, the winds will remain strong … and there may be a dusting of snow.
■ Notes: The Mud Hens have two of the top 10 hitters in the International League in 2B Dawel Lugo, who is batting .378 in eight games, and Edwin Espinal, who has a .375 average in seven contests. … Toledo may face a difficult challenge in hitting Banda, who has won his first two starts for the Bulls by allowing just nine hits and not walking a batter in 10⅓ innings. He also is tied for the IL lead with 16 strikeouts.
RELATED: No game does not mean no work for Mud Hens Sunday.
Guidelines: Please keep your comments smart and civil. Don't attack other readers personally, and keep your language decent. Comments that violate these standards, or our privacy statement or visitor's agreement, are subject to being removed and commenters are subject to being banned. To post comments, you must be a registered user on toledoblade.com. To find out more, please visit the FAQ.