Chris McSorley, the fiery first coach of the Toledo Storm, will be inducted into the Toledo Hockey Hall of Fame next year.
McSorley, an intense competitor who also played for the Goaldiggers, led the Storm to Riley Cups in 1993 and 1994.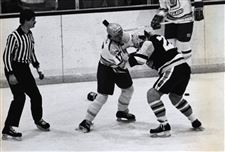 Toledo Goaldiggers hockey player Chris McSorley (17) fights Muskegon's Richard Zemlak (22) in photo dated Jan 4, 1985. McSorley is the latest inductee to the Toledo Hockey Hall of Fame.
BLADE HISTORICAL PHOTO Enlarge
The native of Hamilton, Ontario, played two seasons with the Goaldiggers from 1984-86, recording an astonishing 798 penalty minutes in just 117 regular-season games. The center's 545 penalty minutes during the 1985-86 season remains an all-time high in Toledo hockey history — and one of the highest in the International Hockey League. McSorley also had 40 goals and 40 assists.
McSorley became the first head coach of the Storm in 1991, posting a record of 126-52-0 in three seasons. He guided the Storm to a Brabham Cup title in 1992 for best regular-season record, then to back-to-back Riley Cup championships in 1993 and 1994.
He also was head coach of Winston-Salem (1989-90) and Richmond (1990-91) of the ECHL before he returned to Toledo.
McSorley went on to coach the Las Vegas Thunder in the IHL. He has spent more than a decade with Geneve Servette of the Swiss-A League, where he serves as general manager and coach.
McSorley joins former player and coach Greg Puhalski in the latest class of the Toledo Hockey Hall of Fame along with Maurice "Moe" Benoit (Blades) and John McGrath (Mercurys).
The Walleye organization will announce the final member of the 2019 class on Friday.
The Toledo Hockey Hall of Fame was created to honor individuals who shaped the city's hockey heritage. The selection of the candidates is determined by the Toledo Hockey Hall of Fame committee, made up of former coaches, players, team historians, and media. Fans also have input during the voting phase.
The hall of fame event runs from Jan. 18-21 as part of ECHL all-star game weekend. The hall of fame luncheon will be held Jan. 20.
Contact Mark Monroe at mmonroe@theblade.com, 419-724-6354, or on Twitter @MonroeBlade.
Guidelines: Please keep your comments smart and civil. Don't attack other readers personally, and keep your language decent. Comments that violate these standards, or our privacy statement or visitor's agreement, are subject to being removed and commenters are subject to being banned. To post comments, you must be a registered user on toledoblade.com. To find out more, please visit the FAQ.