Forward Kyle Bonis, a mainstay for the Toledo Walleye over the last four seasons, will play overseas next year.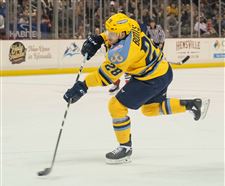 Toledo Walleye forward Kyle Bonis (28) takes shot on goal against the Indy Fuel the 2018 ECHL playoffs. Bonis has signed to play in Norway for the upcoming season.
BLADE/JEREMY WADSWORTH Enlarge
Bonis, who led Toledo with 27 goals this past season, has signed to play for a team in Norway.
The native of Lindsay, Ontario, was an alternate captain for Toledo last season when he tallied 51 points, second most on the team, in 66 games.
Bonis, who holds the Walleye single-season goal scoring record with 36 in 2014-15, will play for a team named Frisk Asker in Norway.
The 29-year-old has played for Toledo in each of the last four seasons. He has tallied 83 goals and 63 assists for 146 points in 172 games with the Walleye.
"Toledo gave more to me as a player and a person than I could ever repay," Bonis said. "The city, the fan base, the staff for the Walleye, and my teammates made an impact on these four years of my life that I will remember forever."
The left winger helped lead the Walleye to the Central Division and Western Conference regular-season titles. He then had eight points in 10 postseason games as Toledo reached the division finals.
He scored one of the most memorable goals in Walleye history in the 2015 postseason. In Game 7 of the North Division semifinals, Bonis scored a shorthanded goal 2:54 into overtime to lift Toledo to a 2-1 sudden death victory over Wheeling.
Bonis has also skated in 101 career American Hockey League games with 15 goals and nine assists.
Just want to wish @kbonis28 the best of luck and continued success in Norway. A true professional on and off the ice and major contributor to changing the culture for the @ToledoWalleye. #pureclass

— Dan Watson (@DWats6) May 31, 2018
Bonis was one of eight players from last year's Walleye team that are considered to be veterans by the ECHL. The league has a rule that allows teams to keep just four veterans on the roster that have played in more than 260 professional games.
Forwards Bonis, Shane Berschbach, Alden Hirschfeld, A.J. Jenks, Tyler Barnes, Austen Brassard, and Mike Embach as well as defenseman Beau Schmitz all are now vets. Embach and Schmitz are leaning towards retirement.
Bonis played four years at Ferris State University (2009-13) where he picked up 47 goals and 30 assists over 136 total games. As a senior in 2012-13, he scored 19 goals and was a finalist for the Hobey Baker Award.
Guidelines: Please keep your comments smart and civil. Don't attack other readers personally, and keep your language decent. Comments that violate these standards, or our privacy statement or visitor's agreement, are subject to being removed and commenters are subject to being banned. To post comments, you must be a registered user on toledoblade.com. To find out more, please visit the FAQ.