The Grand Rapids Griffins have named Ben Simon as their new coach.
Grand Rapids is the American Hockey League affiliate of the Toledo Walleye in the Detroit Red Wings system.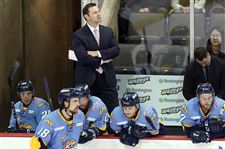 Walleye coach Dan Watson had expressed interest in the AHL job in Grand Rapids. The Griffins named former assistant Ben Simon as their head coach today.
BLADE/KATIE RAUSCH Enlarge
Simon was an assistant under former Grand Rapids coach Todd Nelson, who recently left the organization to became an assistant with the NHL's Dallas Stars.
Walleye coach Dan Watson had expressed interest in the position. Watson said on Monday that he has been in talks with several AHL teams regarding vacant coaching positions, including the open spot in Grand Rapids.
Griffins officials had said that they would promote a coach within the organization.
A native of Shaker Heights, Ohio, near Cleveland, Simon served the last three seasons as an assistant under Nelson. The 39-year-old helped lead the Griffins to an AHL championship in 2017. The Griffins have reached the Calder Cup playoffs during each of the last three seasons and produced the second-most postseason victories in the AHL (22-11 record) since 2016.
In 2013-14, Simon coached the ECHL's Cincinnati Cyclones and led them to the Kelly Cup finals.
A fifth-round draft selection by the Chicago Blackhawks in 1997, Simon logged 81 career games in the NHL between Atlanta (2001-04) and Columbus (2005-06). Overall, Simon appeared in 762 regular season pro games from 2000-11, including 481 AHL contests.
In six seasons as an AHL assistant coach, Simon had a 250-168-38 record between Rockford (2011-13), Toronto (2014-15), and Grand Rapids.
Watson has been with the Walleye organization as an assistant and then head coach since its inception in 2009. He has led Toledo to regular-season conference and division championships the last two season.
The 39-year-old, who was promoted to the head coaching position in June, 2016, has received full support from Walleye officials to explore options at the higher level this offseason.
Watson, a native of Glencoe, Ontario said he remains fully committed to building the Walleye's roster for next season. He said much like the players he has helped to develop in the ECHL, he would like to move up at some point, but it would have to be the right opportunity.
"My goal has always been to advance," he said.
There are three AHL teams that are still searching for a new coach this offseason: the Hershey Bears, the Belleville Senators (Ontario), and the Tucson Roadrunners.
Contact Mark Monroe at mmonroe@theblade.com, 419-724-6354, or on Twitter @MonroeBlade.
Guidelines: Please keep your comments smart and civil. Don't attack other readers personally, and keep your language decent. Comments that violate these standards, or our privacy statement or visitor's agreement, are subject to being removed and commenters are subject to being banned. To post comments, you must be a registered user on toledoblade.com. To find out more, please visit the FAQ.