Three Up
A look at three former Mud Hens of note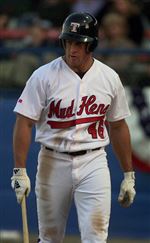 Gabe Kapler on gets ready to bat while with the Mud Hens during the team's Opening Day game in 1999. Kapler has managed the Phillies to a 32-29 record this season.
THE BLADE
Enlarge | Buy This Image
Gabe Kapler, who played in 14 games with the Mud Hens as a 23-year-old outfielder in 1999, is in his first season as Philadelphia's manager. While pitcher Jake Arrieta might not like the now 42-year-old manager's choices regarding defensive shifts, Kapler has led the Phillies to a 32-29 record, leaving Philadelphia just three games out of first place in the National League's East Division, and three games behind in the wild-card race through Friday.
Jim Johnson, who made four relief appearances for Toledo in 2014 after the Tigers signed him as a free agent, has become an important cog in the Los Angeles Angels bullpen this season. In 31 relief appearances, the 35-year-old right-hander has a 2-2 record, a 3.62 ERA, and 30 strikeouts in 32⅓ innings.
Another pitcher who spent time in the Mud Hens bullpen in 2014, Justin Miller has had early success with Washington this season. The right-hander, who will turn 32 years old Wednesday, has allowed just one hit and no walks in his first 7⅓ scoreless innings with the Nationals, striking out 10 to earn two wins and two holds in six appearances.
Three Down
A look down to the lower levels of Tigers' farm system
Right-hander Beau Burrows has been the best pitcher in Double-A Erie's rotation this season despite a deceptive 5-4 record. His 3.17 ERA is the 10th-best mark in the Eastern League, and his .211 opponent's batting average is the fifth-best among EL starters. Burrows, who began the season ranked as the fourth-best prospect in the Tigers organization, has gone winless in his past four starts, but his five victories are more than any other pitcher for the 24-34 SeaWolves.
Catcher Jake Rogers, who was ranked as Detroit's No. 5 prospect before the season, has struggled at the plate for Erie, hitting just .159 with three homers and 14 RBIs while fanning 50 times in 41 games. But Rogers has been outstanding behind the plate for the SeaWolves: He has not committed an error, and he has thrown out 51.4 percent of would-be base-stealers, far and away the best mark in the EL.
Bedford High School graduate Trent Szkutnik has a 1-1 record in seven appearances with Erie this year. The 24-year-old left-handed pitcher, a University of Michigan product, has allowed six hits and six walks in 10 innings but also has 15 strikeouts for the SeaWolves. This year, he also has pitched for High Single-A Lakeland, where he was 2-2 with a 0.53 ERA in 10 games.
Contact John Wagner at: jwagner@theblade.com, 419-724-6481, or on Twitter @jwagnerblade.
Guidelines: Please keep your comments smart and civil. Don't attack other readers personally, and keep your language decent. Comments that violate these standards, or our privacy statement or visitor's agreement, are subject to being removed and commenters are subject to being banned. To post comments, you must be a registered user on toledoblade.com. To find out more, please visit the FAQ.