Norfolk continued its domination of the Toledo Mud Hens this season with a 7-2 victory Saturday at Fifth Third Field. The Tides used a five-run third inning to cruise to their fifth win in six games in Toledo.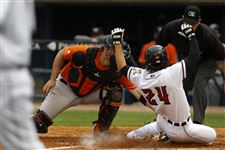 Toledo Mud Hens' Pete Kozma slides into home plate during Saturday's game against the Norfolk Tides at Fifth Third Field. Kozma was called out on the play.
Blade/Samantha Madar Enlarge
What happened: The Mud Hens fell behind immediately as Norfolk's Cedric Mullins slammed the game's first pitch over the fence in right field for his first home run of the season. The hill became steeper when the Tides scored five runs in the third; their first five batters had hits, including a three-run home run by Steve Wilkerson.
The game remained 6-0 Norfolk until Toledo scored twice in the seventh thanks to an RBI single by Edwin Espinal and a wild pitch, but the Tides got one of those runs back in the eighth.
Game MVP: As the Tides' offense was busy pounding out 11 hits, Norfolk starter Jimmy Yacabonis handcuffed the Mud Hens offense for five innings. Yacabonis allowed just three hits and one walk, striking out three.
He said it: "[Norfolk] can pitch. [Yacabonis] threw pretty well, and he's done it to us twice now. They make the plays, and when they get pitches to hit, they don't miss them. ... Every mistake we make is getting pummeled. [Their domination of us] is one of those things you just can't explain." — Toledo manager Doug Mientkiewicz.
Make a note of it: This marks the third three-game losing streak for the Mud Hens this season. Toledo has yet to lose four games in a row in 2018. ... The Hens are 37-23 this season, tying the 2005 Governors' Cup champs and the 2008 team for the best record through 60 games since the franchise moved to Fifth Third Field in 2002. ... The crowd of 9,386 was the seventh sellout at the ballpark this season.
Comings and goings: The Detroit Tigers announced starting pitcher Jordan Zimmermann would make his next rehab start Monday for Low Single-A West Michigan, not the Mud Hens. Toledo's starter that day will be Jacob Turner, who recently was signed as a free agent.
A look ahead: The Mud Hens will complete their homestand with a contest against Norfolk that will start at 4:05 p.m. Sunday. Left-hander Josh Turley (5-2, 4.70 ERA) will start for the Hens against right-hander Tim Melville of the Tides (5-3, 4.47 ERA).
Contact John Wagner at: jwagner@theblade.com, 419-724-6481, or on Twitter @jwagnerblade.
Guidelines: Please keep your comments smart and civil. Don't attack other readers personally, and keep your language decent. Comments that violate these standards, or our privacy statement or visitor's agreement, are subject to being removed and commenters are subject to being banned. To post comments, you must be a registered user on toledoblade.com. To find out more, please visit the FAQ.