Jason Krizan came up with a three-run double with two outs in the top of the ninth inning to lift the Toledo Mud Hens to a 5-3 victory against the host Indianapolis Indians on Thursday night at Victory Field.
The win gives the Mud Hens a 1½-game lead over the Indians in the International League West Division.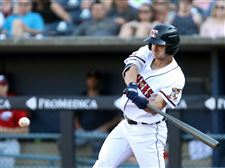 Toledo's Jason Krizan, pictured earlier this season, was 3-for-5 in the Mud Hens' 5-3 win at Indianapolis.
Blade/Kurt Steiss Enlarge
What happened: Indianapolis took an early lead in the second inning, when Pablo Reyes ripped a two-run triple to score Kevin Kramer and Eric Wood. The Mud Hens got both runs back in the top of the third, when Jacob Robson scored on a Dawel Lugo groundout and Krizan added an RBI single. In the fifth, Reyes slugged a home run to give the Indians a 3-2 lead. It stayed that way until the ninth when Krizan came up with the clutch double.
Mud Hens starter Jacob Turner allowed three runs in six innings of work, while Indianapolis starter Alex McRae allowed two runs in 6⅔ innings.
Zac Reininger pitched two innings of scoreless relief to earn the win and Zac Houston nailed down the save with a perfect ninth inning.
Game MVP: Krizan was 3 for 5 on the night.
Make a note of it: Despite missing time by being on the disabled list, Mud Hens outfielder Christin Stewart is tied for the International League lead in home runs with 15. Lehigh Valley's Joey Meneses also has 15 homers. ... Dixon Machado batted second in the lineup in his first game with Toledo this season. He recently was designated for assignment by the Tigers.
Comings and goings: The Mud Hens activated Stewart from the 7-day DL and Chad Huffman from the temporarily inactive list. Toledo also assigned Herlis Rodriguez, A.J. Ladwig, and Kody Eaves to Double-A Erie ... The Detroit Tigers optioned reliever Victor Alcantara to Toledo. ... Earlier this week pitchers Kyle Funkhouser and Matt Hall were assigned to Toledo from Erie and Mud Hens pitchers Junichi Tazawa and Mark Montgomery were released.
A look ahead: Toledo will face Indianapolis at 7:15 p.m. Friday in the second game of a four-game set. Toledo will send Artie Lewicki (4-3, 4.62 ERA) to the mound, while Indianapolis will start Brandon Waddell (3-4, 6.51 ERA).
All-star game: The Pacific Coast League All-Stars defeated the International League All-Stars 12-7 in the Triple-A all-star game Wednesday at Columbus' Huntington Park. Huffman started at designated hitter and was 0 for 4. Lugo entered the game as a substitute at second base and went 1 for 2 with a single.
Contact Brian Buckey at bbuckey@theblade.com, 419-724-6110, or on Twitter @BrianBuckey.
Guidelines: Please keep your comments smart and civil. Don't attack other readers personally, and keep your language decent. Comments that violate these standards, or our privacy statement or visitor's agreement, are subject to being removed and commenters are subject to being banned. To post comments, you must be a registered user on toledoblade.com. To find out more, please visit the FAQ.