In the past 34 years, plenty has changed about the Toledo LPGA tournament — with the exception of a pair of voices on the tee boxes.
The tournament that began as the Jamie Farr Toledo Classic is now the Marathon Classic.
The women who played the first few installations in the mid-1980s are long since gone from the tour, and in some cases, they have children who now are professionals.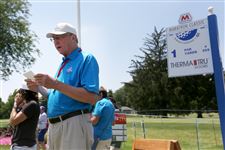 Volunteer Don Czarcinski calls out the names of the next golfing group to tee off on No. 1 in the first round of the LPGA Marathon Classic on Thursday at Highland Meadows. Czarcinski has been present for every Toledo tournament except one.
Blade/Katie Rausch Enlarge
Toledo, once a new host, has become a tour staple every July.
Through all of the changes, two volunteers have been small but reliable parts of the tournament's growth. Former state Rep. Don Czarcinski, a retired teacher, and Tom Tomczak, an area attorney, again will volunteer their voices to announce groups as they tee off on the course.
Czarcinski was calling names on the first tee Thursday and will be back Friday, while Tomczak will take No. 1 for the weekend rounds.
It has been so long since they started, Tomczak told someone last year he actually was still pretty good on the links when the LPGA first arrived in Toledo in 1984.
"When I first started doing this, I was a 3 [handicap]," Tomczak joked. "Now I'm a 20."
Tomczak has known Marathon Classic tournament director Judd Silverman since the latter was a child. When Silverman was in the midst of preparing for the inaugural event, he asked Tomczak, a veteran of local theater productions, if he might help announce.
The fit was natural.
"I've always had a voice that carried, and I've been involved in theater, so I know how to project," Tomczak said.
Silverman's next task for Tomczak was to put together a team.
Czarcinski was on the first one. And the next. Through the years, the former math professor at the University of Toledo and Lourdes University has almost perfect attendance: 32 out of 33 tournaments.
The only time he missed, he was across the Atlantic Ocean on a trip to Italy.
"I knew Tom through politics, and he said, 'Hey, what are you doing?'" Czarcinski said. "I started here when they came the first year, and I've been here every year but one.
"I've really enjoyed it. This tournament has grown and matured so much over the years."
In the first year at Highland Meadows, Tomczak was there to help heave Lauri Peterson into the pool after she shot 10 under the win the inaugural tournament.
For many groups of volunteers, the tournament has become like a timeshare. Every year during the same week, they return.
Tomczak and Czarcinski have been part of the crew who kept coming back to volunteer their time every summer.
"It's a good time, and so many times it's the same people," Tomczak said. "You're just working with the same people. Granted, there isn't a player out there on that tour who was there when we started in 1984, but there's still a rotation of people who keep coming back."
Even as the golfers have changed, the voices announcing the top names on Tour have not. What started as a simple favor ended up being a highlight of each summer for Tomczak and Czarcinski.
"Tom needed help, and I said, 'Sure, I'll be glad to.' It sounded like fun, and it was fun," Czarcinski said. "It's been fun for 30-odd years."
Contact Nicholas Piotrowicz at: npiotrowicz@theblade.com, 419-724-6110, or on Twitter @NickPiotrowicz.
Guidelines: Please keep your comments smart and civil. Don't attack other readers personally, and keep your language decent. Comments that violate these standards, or our privacy statement or visitor's agreement, are subject to being removed and commenters are subject to being banned. To post comments, you must be a registered user on toledoblade.com. To find out more, please visit the FAQ.