Bishop Michael Pitts could almost pick out the accent.
Ghanaian, he guessed, gauging an enthusiastic visitor to the Maumee campus of Cornerstone Church at a recent weekend service. She corrected him, apparently without any offense: Nigerian, but her son-in-law, who was also in attendance, is Ghanaian.
It wasn't an unusual interaction at the church, where the ushers who offer attendees a warm welcome, the praise choir that leads a vibrant worship, and the congregants who clap and sway with the spirit of the music present a mosaic of black, white, and every shade in between.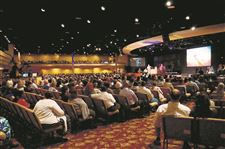 Bishop Michael Pitts estimates that Cornerstone's membership is 40 percent white, 40 percent black, and 20 percent other.
It's not a white church with black attendees, nor a black church with white attendees. Nor is it any other combination where one demographic dominates. It's a space where worshipers of any color feel not only welcomed, but celebrated, Bishop Pitts said.
"Here," he said, "everyone is in equal ownership of the vision."
More than 50 years after the Rev. Martin Luther King, Jr., observed that "11 o'clock on Sunday morning is one of the most segregated hours, if not the most segregated hours, in Christian America," integrated worship communities like Cornerstone Church remain something of a rarity. In Toledo and in the broader church landscape, it's not unusual for Christians to continue thinking of their faith communities in terms of black or white, well after the civil rights movement that Mr. King championed in the '50s and '60s wore away at such distinctions in other aspects of American life.
The Rev. Raymond Bishop, Jr., of Mount Pilgrim Baptist Church in Toledo, is among those who see this pattern.
"The only thing that has changed, from my perspective, is the clock and not the culture," he said. "Religion has not been able to break down the barrier of race."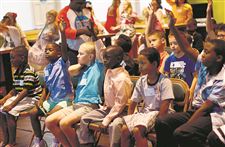 Cornerstone's diversity extends to its children's ministry.
The Pew Research Center, citing the findings of a 2012 National Congregations Study, suggests there's reason to think that Americans are making progress toward what Pastor Bishop and others said should be a goal for faith communities: multicultural spaces that better reflect the broader society and what some would call the "kingdom of God."
While about 8 in 10 Americans worship in a community where a single racial or ethnic group accounts for at least 80 percent of the congregation, 1 in 5 reported worshiping in a community with no dominant race or ethnicity; the study indicates that the latter figure is on the rise, up from just 15 percent in 1998 and 17 percent in 2006-07.
The percentage of white worshipers who attend services in an entirely white community is also dropping, from 20 percent in 1998 to 11 percent in 2012, suggesting that an increasing number of congregations nationwide are seeing at least some diversity on Sunday morning.
Courting racial diversity in pews and on church leadership teams that have long leaned toward one race or another is not an easy endeavor, but it is a worthwhile goal, pastors said.
Cornerstone Church, a nondenominational community with multiple campuses in the region, has been attracting a racially diverse community since its founding in the 1980s, said Bishop Pitts, who grew up worshiping in predominantly black and predominantly white churches. In more recent years, he said he sees visitors and new members drawn to that diversity.
"I think it's important for every person to see someone who looks like them being used by God," Bishop Pitts said. "And it's important for every person to see someone who doesn't look like them to be used by God."
"When I see someone who looks like me, then I can identify and know that God has something for me," he said, expanding on the point. "But if I only see people like me, then I think that's who God uses, people who look like me.
"So I need to see someone different as well, so I know that God uses other people."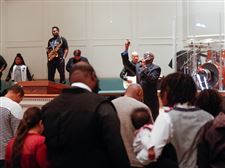 Pastor Raymond Bishop gives a call to the altar during the Sunday morning service at Mt. Pilgrim Baptist Church in Toledo.
The Blade/Jetta Fraser
Enlarge | Buy This Image
To the Rev. Mary Sullivan, of St. Paul's United Methodist Church, churches stand as one of many institutions in a society that are, or would be, healthier with multicultural and multiracial representation. That's particularly relevant as the population becomes increasingly diverse.
"You can't have healthy dialogue with only one side in the room," she said. "Whether that's the church or the school or whatever, I think we have to look at it from a perspective of inclusiveness."
Neither Cornerstone nor St. Paul's records the demographics of its membership, but Pastor Sullivan estimates that her downtown church could see a 70 percent white and 30 percent black congregation on any given Sunday; Bishop Pitts estimates that his membership is 40 percent white, 40 percent black and 20 percent "other," including Hispanic.
That racial diversity extends to leadership at Cornerstone Church, Bishop Pitts said. Pastor Sullivan described her church leadership team as predominantly white, though the board for a major ministry run through the church, Marketplace for All People, is predominantly black.
There are many factors that might contribute to a continued racial divide in churches, including geography, denominational tradition and worship style: A Gospel choir in a church affiliated with the National Baptist Convention, for example, can present a stark contrast to the subdued liturgy of a church affiliated with the Evangelical Lutheran Church in America.
(Pew Research Center puts the denominational membership of the National Baptist Convention at 99 percent black and the Evangelical Lutheran Church in America at 96 percent white.)
At Cornerstone Church and at St. Paul's, Bishop Pitts and Pastor Sullivan described efforts to incorporate the styles of both worship traditions into services as a means of celebrating the diversity of the congregation. It's one way to ensure that an attendee is not simply acclimating to a community dominated by one race, but playing an active role in shaping it.
But the question of church segregation cannot simply be boiled down to a preference for one worship style or another, said Pastor Bishop, who pointed out that casting black communities as vocal and white communities as hushed is a stereotype that does not always play out.
Communities have to want to pursue integrated worship spaces, he said — a desire that can, admittedly, require worshipers to step out of their comfort zones. His predominantly black congregation will sometimes welcome a white worshiper on a Sunday, but, on the whole, he said he doesn't see a willingness among church-goers to step over the existing divide.
Reflecting on Mr. King's often repeated observation, he said: "That was 1963. This is 2018. Had we desired to have that barrier removed, it could have been."
But Pastor Bishop, too, sees removing that barrier as a worthwhile goal, one that's in line with the teachings of Mr. King and of Jesus Christ.
"It's the goal of Christianity," he said. "Our founder knew that it was a pretty good idea."
Contact Nicki Gorny at ngorny@theblade.com or 419-724-6133.
Guidelines: Please keep your comments smart and civil. Don't attack other readers personally, and keep your language decent. Comments that violate these standards, or our privacy statement or visitor's agreement, are subject to being removed and commenters are subject to being banned. To post comments, you must be a registered user on toledoblade.com. To find out more, please visit the FAQ.