Martin Luther King Day
Several faith communities are planning services to commemorate the legacy of the Rev. Martin Luther King, Jr., this week. Martin Luther King, Jr., Day is Monday.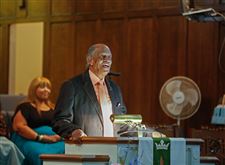 Bishop Robert A. Culp
The Blade/Jetta Fraser
Enlarge | Buy This Image
Bishop Robert Culp of First Church of God is the guest preacher at a commemoration worship service at First Presbyterian Church of Maumee, 200 E. Broadway, at 4 p.m. Sunday.
The service brings together a diverse set of Maumee and Toledo-area faith leaders, including Pastor Lee Williams, whose Search-Lite Community Church regularly meets in the chapel of the historic church. It continues a tradition that Pastor Williams and Pastor Clint Tolbert, of First Presbyterian Maumee, began in 2015.
Pastor Otis Gordon of Warren AME Church is the guest speaker at a celebration at Lo Salem Missionary Baptist Church, 660 Vance St., at 10 a.m. Monday. The celebration is put on through the adjacent Martin Luther King Kitchen for the Poor, and continues with a march around Savage Park and lunch.
Lourdes University and Sylvania Franciscan Village host a commemoration and prayer service of the "life and legacy" of the Rev. Martin Luther King, Jr., at 4:30 p.m. Tuesday in Mother Adelaide Hall, 6832 Convent Blvd., Sylvania. The event is free. The community is also invited to a Mass — "Prayers for Peace, Justice & Racial Harmony" — at Our Lady Queen of Peace Chapel, also on the university campus, at 8:30 a.m. Monday.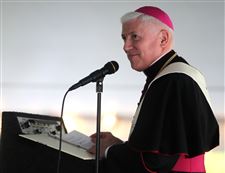 Toledo Bishop Daniel E. Thomas
The Blade/Kurt Steiss
Enlarge | Buy This Image
Bishop Daniel Thomas of the Diocese of Toledo is the celebrant and homilist at a Mass for Promoting Harmony at the Historic Church of St. Patrick, 130 Avondale Ave., at 4 p.m. Monday. Two community leaders will receive Drum Major Awards, recognizing work that supports Reverend King's call to service, peace, justice, and racial equality, at the service.
Merge Summit
Merge, a regional network of pastors and leaders of parachurch organizations, hosts its third summit for senior pastors and citywide ministry directors Feb. 15-16 at Maumee Bay State Park Lodge and Conference Center. The summit is titled, "Building Your City's Wall," and focuses on Nehemiah 2 as a call to "work together to redeem and transform the greater Toledo area."
Online registration is open through Feb. 1. The summit begins at 9:30 a.m. Feb. 15 and continues with a full schedule of worship, prayer, fellowship, and dialogue through 3 p.m. Feb. 16. To register or for more information, go to mergetoledo.com.
Guantanamo Bay protest
The social justice subcommittee of the Toledo chapter of the Association of U.S. Catholic Priests joins the Northwest Ohio Peace Coalition in a protest against the continued operation of the Guantanamo Bay prison on Sunday. The public is invited to join protesters at Talmadge Road and Sylvania Avenue between noon and 1:30 p.m.
Protesters note that this month marks the 16th year since the the controversial military detention center opened on a naval base in Cuba. Forty-one people remain in custody there, including some who have not been charged or tried with a crime.
Guidelines: Please keep your comments smart and civil. Don't attack other readers personally, and keep your language decent. Comments that violate these standards, or our privacy statement or visitor's agreement, are subject to being removed and commenters are subject to being banned. To post comments, you must be a registered user on toledoblade.com. To find out more, please visit the FAQ.