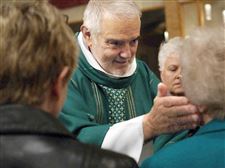 Though he considers himself semiretired, Father Richard McAlear is often on the road three weeks out of the month for his healing ministry.
Father Richard McAlear remembers clearly the first time anyone asked him to lay hands on a suffering believer. The request caught him more than a little off guard.
"I had never even seen anyone pray over someone," Father McAlear, 74, recalled recently. "How do you do this?"
He directed the question toward the woman who had suggested it, a Catholic and one-time Pentecostal who, like the rest of the attendees of the prayer meeting that night, was concerned about a companion suffering back pain so severe that she struggled to walk.
"And she said, 'Just lay hands on her and ask Jesus to heal her.'"
IF YOU GO:What:
Healing Mass celebrated by Father Richard McAlear
When:
6:30 p.m. Thursday
Where:
Historic Church of St. Patrick, 130 Avondale Ave.
Admission:
Free
Information:
frmac.org
"I said, 'Well, you do it,'" he continued. "She said, 'No, you're the priest.'"
So the young priest laid his hands on the woman, prayed, and blessed her. When her symptoms seemed to ebb, Father McAlear recalled, "I was more surprised than anybody."
It was a hesitant beginning to a healing ministry that would continue for more than 40 years and take him to destinations across the country and around the world. Even in what Father McAlear today considers a semiretirement, he said he's often on the road three weeks out of a month.
Each stop over the years has presented an opportunity for the priest to lay hands on those who come before him and to pray for the relief of their physical or emotional suffering, gestures that he explained draw on a charism, or spiritual gift, of the Holy Spirit. The efficacy of these blessings, as first experienced by the woman with the back pain in that prayer meeting in 1972, have lent the priest a reputation that often precedes him.
Father McAlear brings his healing ministry to Toledo on Thursday. He will celebrate a Healing Mass at the Historic Church of St. Patrick, 130 Avondale Ave., at 6:30 p.m.
The ecumenical service is open to Catholics and non-Catholics.
Father McAlear, of Tewksbury, Mass., was ordained as an Oblate of Mary Immaculate in 1970, a time when he said his unfamiliarity with the sort of healing blessing that he was called upon to bestow was not unusual for a Catholic priest. Healing Masses were not widely celebrated within the Catholic Church, which was then seeing just the earliest years of Catholic Charismatic Renewal.
Catholic Charismatic Renewal is a spiritual movement within the Catholic Church that leans into a charismatic worship expression, as characterized by elements, including healing services, that are often associated with Pentecostalism. The movement has its roots in "Duquesne Weekend," a reference to a multidenominational retreat at Duquesne University in 1967.
Stephen Toth, executive director of the Diocese of Toledo Ministry to Catholic Charismatic Renewal, describes the still-strong movement as "Pentecost in our time." He related the charismatic expressions associated with the movement to the fruits and charisms of the Holy Spirit that came upon the Apostles during Pentecost.
Christians recognize that Pentecost as the day that the Apostles, upon receiving the Holy Spirit, were sent forth to build and serve the church.
"Now these timid, deathly afraid people all of the sudden became bold and went out of the room and started spreading the good news immediately," Mr. Toth said. "That was the beginning of the church."
While a Healing Mass might remain as unfamiliar to some Catholics as it did to Father McAlear in his early years as a priest, he said its roots run deep in the tradition and the theology.
Catholics, for example, have long flocked to shrines in Lourdes, France, or Fatima, Portugal, with hopes of physical or emotional healing. And, theologically, Father McAlear noted, healing is presented in Scripture as one of several charisms of the Holy Spirit.
Father McAlear clarified that anyone can and should pray for healing. But some, like himself, are particularly gifted with this charism. Offering a sports analogy, he likened it to tennis: Anyone can hit a ball, but not everyone can or will play professionally.
"It's pretty much the same in the healing ministry," he said. "Anybody can pray, but there are some people who do it full time."
For Father McAlear, that full-time step came in 1976.
Things had snowballed after that first blessing, he recalled.
"The next week, word was out, and people wanted me to bless them, to touch them, to heal them," he said, describing the path that led him from high school teacher to full-time healing ministry. "Whatever you did to [her], do to me."
The Healing Masses that Father McAlear celebrates consist of a Catholic Mass followed by an opportunity for congregants to queue in front of Father McAlear for an individual blessing.
They don't typically vocalize what is afflicting them, as they would have in the early days of his ministry, when the turnout for such services was smaller. But, regardless, he said, he can somehow tell why each person is suffering in a way that isn't easily explained even to himself.
"I don't know why I know or how I know, but I kind of know who has cancer and who has Parkinson's disease and who has mental problems and who has — it could be all kinds of problems, family problems, kids on drugs.
"It's not all physical healing," he continued. "It says in Scripture, Christ came to heal the broken-hearted. There are a lot of broken-hearted people out there."
A Mass can last up to 2½ hours, he said, but a person need not stay the duration. There's no formal end to the service, and individuals are welcome to leave after they receive their blessing.
While the celebrant ensures that the Healing Mass on Thursday is high profile, it is by no means the first or only to be held within the Diocese of Toledo.
Mr. Toth, of the Ministry to Catholic Charismatic Renewal, said a local priest holds a healing service every month or so at St. Jerome Catholic Church in Walbridge. The Ministry to Catholic Charismatic Renewal also has a hand in prayer groups at area parishes, retreats, a weekly radio show and an annual conference.
Mr. Toth estimated that about 150 people are active in the ministry; thousands have been involved over the years.
Father McAlear does not come to Toledo at the invitation of the Ministry to Catholic Charismatic Renewal, but instead at the invitation of Nancy Rank, a parishioner at the Historic Church of St. Patrick who reached out to the priest at the suggestions of a fellow parishioner.
Ms. Rank said she's looking forward to attending the Healing Mass.
"We all need healing of one kind or another," she said. "It is really a beautiful opportunity to have those wounds healed, have them addressed, have it like Jesus is really there, listening and caring."
Contact Nicki Gorny at ngorny@theblade.com or 419-724-6133.
Guidelines: Please keep your comments smart and civil. Don't attack other readers personally, and keep your language decent. Comments that violate these standards, or our privacy statement or visitor's agreement, are subject to being removed and commenters are subject to being banned. To post comments, you must be a registered user on toledoblade.com. To find out more, please visit the FAQ.