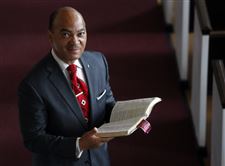 Pastor Cedric Brock of Mount Nebo Baptist Church.
The Blade
Enlarge | Buy This Image
Faith leaders on firearms
The Interdenominational Ministerial Alliance this week passed a resolution concerning the supply and attainment of firearms. The resolution reads:
"Be it resolved that the Interdenominational Ministerial Alliance supports a ban on buying and selling any assault rifle and furthermore supports the age requirement to be 21 years to buy any gun — pistol or rifle."
The alliance, under the presidency of Pastor Cedric Brock of Mount Nebo Baptist Church, represents more than 50 churches that serve the urban community. The IMA regularly speaks out about issues such as violence, racism, and poverty that affect the city.
The firearms resolution was presented at a regularly scheduled meeting on Monday by the civic committee, co-chaired by Sister Virginia Welsh and Pastor Jerry Boose. The civic committee seeks to transform the greater Toledo area by creating partnerships, addressing issues, and building relationships among the city stakeholders through the power of God.
St. Patrick's Day
St. Patrick's Day is March 17. The Toledo chapter of the Ancient Order of Hibernians, the country's oldest Irish Catholic fraternal organization, celebrates this week with three events.
The Historic Church of St. Patrick, 130 Avondale Ave., celebrates its annual St. Patrick's Day Mass on Sunday. A sing-along of Irish songs at 9:30 a.m. precedes Mass at 10 a.m. Local Hibernians will process in together.
The Hibernians present James Kilbane in concert at the Maumee Indoor Theatre, 601 Conant St., on Thursday. Mr. Kilbane, of County Mayo, Ireland, placed as a runner-up on Ireland's national talent television show, You're A Star, in 2004. He has since established himself as a multi-platinum selling gospel, Christian, Celtic country, and Irish folk singer. He was voted "Irish Gospel Singer of the Year" in 2012.
Mr. Kilbane performs at 7 p.m. Tickets are available for $15 at the door, with proceeds benefiting Most Blessed Sacrament Catholic Parish and St. Patrick of Heatherdowns Catholic Church.
Finally, the Hibernians host their 15th annual family friendly St. Patrick's Day Party on March 17 at St. Clement Hall, 3030 Tremainsville Rd. The party encompasses Irish food and beverages, including Guiness on tap, as well as live Irish music and Irish dancers from the Ardan Academy. The party runs noon to 10 p.m. Admission is $5, free for children.
Lenten Evensong
St. Lucas Lutheran Church hosts a Lenten Evensong Service at 7 p.m. Wednesday, in continuation of a Wednesday Lenten series at the church focusing on prayer practices. The Evensong Service will feature the Good Company Vocal Ensemble.
The ensemble will lead prayerful anthems by Henry Purcell, Moses Hogan, and others as part of a Holden Evening Prayer Service. The ensemble is directed by Karen T. Biscay and accompanied by Norma Kelling. Pastor Martin Billmeier will lead the service, alongside cantor Georgia Steele and accompanist Jamie Dauel.
The service is free. St. Lucas is at 745 Walbridge Ave. For more information, call 419-243-8189 or go to stlucastoledo.org.
Guidelines: Please keep your comments smart and civil. Don't attack other readers personally, and keep your language decent. Comments that violate these standards, or our privacy statement or visitor's agreement, are subject to being removed and commenters are subject to being banned. To post comments, you must be a registered user on toledoblade.com. To find out more, please visit the FAQ.