State officials and local religious leaders met in Toledo on Tuesday to share ideas on the role that faith communities can play in addressing infant mortality.
Organizers described the meeting as the first of what will be ongoing conversations on the topic.
"We know that the faith community can deliver credible messages on a myriad of topics, including infant mortality and health topics, in a way that most of us from government entities cannot," said Sandy Oxley, chief of maternal, child, and family health for the Ohio Department of Health. "You have the trust, not only of your parishioners, but your local communities as well."
The meeting was organized on behalf of Gov. John Kasich's Office of Faith Based and Community Initiatives. In addition to Ms. Oxley, representing the Ohio Department of Health, it brought together representatives from the governor's office, Ohio Department of Medicaid, Toledo-Lucas County Health Department and numerous local health and faith-based organizations.
It provided both an education on infant mortality, including discussions on contributing factors and statistics specific to Lucas County, as well as an opportunity to share ideas and concerns between the local and state level.
Infant mortality rates are measured as the number of babies who die before their first birthdays per 1,000 live births.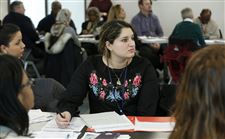 Safa Ibrahim, a tobacco prevention and cessation health educator with the Toledo-Lucas County Health Department, takes notes while listening to speakers during a community meeting at Nexus Healthcare in Toledo to end infant mortality. THE BLADE/LORI KING
THE BLADE/LORI KING
Enlarge | Buy This Image
The rate has been persistently high in Lucas County, one of nine metropolitan areas that the Ohio Department of Health identified as responsible for 59 percent of all infant deaths, and 86 percent of African American infant deaths, in 2016.
Lucas County most recently recorded infant mortality rates at 14.2 for black infants and 5.0 for white infants in 2016, according to the Ohio Department of Health. Premature birth, birth defects, and sleep-related issues are among the top causes of infant death in Ohio.
Celeste Smith, the community and minority health supervisor for the Toledo-Lucas County Health Department, led the meeting and emphasized that tackling infant mortality demands a multi-faceted approach.
"This is a community issue," Ms. Smith said. "It's not a hospital issue, it's not a health issue, it's not a social service issue, it's not a faith-based issue. It's a community issue and it's going to take all of us combined together to resolve this."
Ms. Oxley steered much of the early conversation on infant mortality rates, drawing on state health department statistics to particularly call attention to the disparity between infant mortality rates of black and white infants.
She identified premature births as the most significant driver of infant deaths, accounting for 30 percent of infant deaths in 2016. She also pointed to several predictors of prematurity that relate to the health of the mother. These include smoking in the third trimester, the amount of time the mother waits between pregnancies, and access to prenatal care in the first trimester.
The latter means that making early care available to expecting mothers is critical, she said.
The conversation later opened up, with local attendees sharing ways their churches or faith-based organizations are already working with expecting or new mothers, or using health ministries to educate the community on safe-sleep practices for infants.
State officials also fielded questions, including concerns about timely access to Medicaid, and shared ways that faith stakeholders in other cities are addressing infant mortality.
Contact Nicki Gorny at ngorny@theblade.com or 419-724-6133.
Guidelines: Please keep your comments smart and civil. Don't attack other readers personally, and keep your language decent. Comments that violate these standards, or our privacy statement or visitor's agreement, are subject to being removed and commenters are subject to being banned. To post comments, you must be a registered user on toledoblade.com. To find out more, please visit the FAQ.