'Fact vs. Fiction'
The United Muslim Association of Toledo welcomes Sabeel Ahmed to speak at the Radisson Hotel on Sunday. He will present on "Prophet Mohammed's Facts vs. Fiction."
Mr. Ahmed is a full-time educator on Islam, focused on tackling Islamophobia and conveying the peaceful message of the faith. He is the director of the Chicago-based GainPeace, which is an outreach effort of the Islamic Circle of North America.
His free presentation begins at 4 p.m. at the Aspen Room of the Radisson Hotel, 3100 Glenwood Ave.
'Our Time to Break Silence'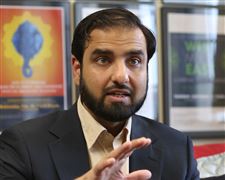 Anjum
The Blade
Enlarge | Buy This Image
Monroe Street United Methodist Church hosts a reading of Martin Luther King, Jr.'s "Beyond Vietnam: A Time to Break Silence" at 4 p.m. Sunday. In the speech, delivered in 1967, Reverend King called for the country to unite against the "the giant triplets of racism, materialism, and militarism."
The second annual reading at the church follows the lead of the National Council of Elders, which last year began to ask schools, churches, and other community organizations to join in "building this movement to break silence, promote dialogue, and engage in nonviolent direct action."
The local reading is free; the church is at 3613 Monroe St.
'They Will Inherit the Earth'
The Sylvania Franciscan Village presents "They Will Inherit the Earth: Peace & Nonviolence in a Time of Climate Change" on Tuesday. Father John Dear, a longtime peace activist, lecturer, and author will speak at the event. A book signing will follow.
Father Dear's most recent of 35 books, They Will Inherit the Earth, connects acts of nonviolence and solidarity to creation. He shows "how our global epidemic of violence and war can only lead to catastrophic climate change and why we need to help build the global grassroots movement of nonviolence if we are to protect creation."
The free presentation is at 7 p.m. Tuesday at the Franciscan Center, Lourdes University, 6832 Convent Blvd., Sylvania. Donations are accepted.
'The Kaleidoscope of the Soul'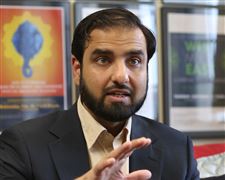 Anjum
The Blade
Enlarge | Buy This Image
The annual Imam Khattab Lecture on Islamic Thought at the University of Toledo is set for Tuesday. Professor Ovamir Anjum will lecture on "Sufism: The Kaleidoscope of the Soul" at 7 p.m. in McQuade Law Auditorium in the College of Law.
Mr. Anjum is the Imam Khattab Endowed Chair of Islamic Studies at the university. His lecture, which is free, continues an annual series under the UT Center for Religious Understanding. RSVPs are appreciated but not required; go to https://bit.ly/2H6fhKJ.
MultiFaith Banquet
This year's MultiFaith Banquet, themed "Harmony in Diversity," is slated for April 29. Tickets are available through April 16 through the MultiFaith Council of Northwest Ohio, conta.cc/2p6JL7L; they are $25 for adults and $15 for youth ages 12 to 21.
This year is the 17th annual banquet. It will be held at St. George Antiochian Orthodox Cathedral, 3754 Woodley Rd., between 3 and 7 p.m. The keynote speaker is the Rev. Otis Gordon, of Warren AME Church, who will speak on "Building Bridges to Hope in the Faith Communities" at 6 p.m.
For more information and an event schedule, go to multifaithcouncil.org.
Guidelines: Please keep your comments smart and civil. Don't attack other readers personally, and keep your language decent. Comments that violate these standards, or our privacy statement or visitor's agreement, are subject to being removed and commenters are subject to being banned. To post comments, you must be a registered user on toledoblade.com. To find out more, please visit the FAQ.