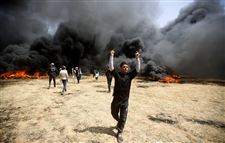 Palestinian protesters burn tires during clashes with Israeli troops along Gaza's border with Israel, east of Khan Younis, Gaza Strip.
ASSOCIATED PRESS Enlarge
Two hot spots were in the news lately. In both cases, there were protests against the inhuman treatment of captive populations. Though these places are located in different parts of the world, there are a lot of similarities between them. These are Gaza and Kashmir.
Gaza is a coastal strip along the Mediterranean Sea. It has been ruled by Hamas, a faction of Palestinians, for over 10 years. Israel, with the help of Egypt, has maintained a total blockade of the 140 square mile strip, essentially turning it into an open-air prison for 1.8 million Palestinians. While the overall unemployment is 40 percent, it is a 60 percent among the youth. In Gaza, as the UN has said, a humanitarian disaster is always around the corner.
Read the previous column from S. Amjad Hussain
Global donors, mostly Europeans, have been helping the "imprisoned" population with cash and supplies that Israel approves. Very few people in the world could put up with such ongoing humiliation perpetrated by Israel and its willing accomplice, Egypt.
When it comes to Israel and Palestine, pent-up frustration and anger usually spills over. At a recent, peaceful demonstration at the Gaza-Israel border, things once again turned violent. Israeli forces opened fire and killed 17 Palestinians, and injured an estimated 1,000 more. All the casualties happened on Gazan soil and, according to press reports, no Palestinians crossed into Israel. While Israel has the right to protect the security of its borders, the indiscriminate killing of civilians away from the border fence is unacceptable and has been condemned by many observers.
Emboldened by the current U.S. Administration, Israeli Prime Minister Benjamin Netanyahu knows he could get away with his highhandedness. President Trump's unilateral decision, made in spite of various UN resolutions, to move the American embassy in Israel to Jerusalem has further inflamed the situation. This single act has delivered a coup de grâce to an already moribund two-state solution. The Palestinians don't have much to look forward to. Most Arab countries, including Saudi Arabia, have sacrificed the Palestinians to curry favor with Israel and the U.S. in order to contain Iran. Expediency and duplicity make strange bedfellows.
With the two-state solution dead, Israel has to contend with a restive Palestinian population in Gaza and the occupied West Bank. The continued annexation of those territories with Israel would create a demographic time bomb for the Jewish state. To continue the occupation and apartheid would be hard to maintain in the long run. Israel would have to brace itself for occasional flare-ups in the territories under its control. In either case, it is an untenable situation.
The other hot spot is the northern Himalayan region of Kashmir. It is a festering problem, left from the 1947 partition of the Indian subcontinent, which created a predominantly Hindu India and a majority-Muslim Pakistan. According to the formula of the partition, Hindu majority areas were to stay in India and Muslim majority areas would join Pakistan. Kashmir, being a Muslim majority, was to have joined Pakistan.
A series of miscalculations on the part of the then-newly established Pakistan, and the out-right duplicity of Lord Luis Mountbatten, the last viceroy of India, helped India occupy the area. Since then both countries have fought three inconclusive wars over the region. India controls two-thirds of the territory, including the valley of Kashmir, while Pakistan controls the remaining one-third. A UN resolution to decide the fate of the region through a plebiscite has not been carried out.
India maintains an estimated 750,000 troops in Kashmir to guard a population of 7 million. Recent clashes have resulted in the death of 18 Kashmiris and three Indian soldiers. Amnesty International has recorded flagrant violation of human rights in Kashmir by Indian forces. An act of Indian parliament gives blanket immunity to armed forces operating in Kashmir.
Against this backdrop, Indian Prime Minister Narendra Modi has expressed unhappiness with the media coverage of the turmoil in Kashmir. While in the past Pakistan had fermented unrest in Indian Kashmir, now the Kashmiris themselves are protesting against the Indian rule. A great majority of Kashmiris don't want to join Pakistan but want independence from India.
In both Palestine and Kashmir, the occupied deeply resent the occupiers. The world at-large has succumbed to the counter narratives perpetuated by Israel and India. In this narrative, Israel is the only stable democracy in a turbulent region and India is the biggest functioning democracy in the world. True, but why do these democracies, in clear violation of democratic principles, continue to suppress and brutalize people under their control?
S. Amjad Hussain is an emeritus professor of surgery and humanities at the University of Toledo. His column appears every other week in The Blade. Contact him at aghaji@bex.net.
Guidelines: Please keep your comments smart and civil. Don't attack other readers personally, and keep your language decent. Comments that violate these standards, or our privacy statement or visitor's agreement, are subject to being removed and commenters are subject to being banned. To post comments, you must be a registered user on toledoblade.com. To find out more, please visit the FAQ.