SANDUSKY — Corso's Flower and Garden Center — the gardening company raided by Immigration and Customs Enforcement this week — said Friday the company was unaware any of its employees lacked proper immigration documentation.
In a statement, Corso's wrote it demands proper documentation from all employees and ensures that all employer taxes are paid. The company added it was also "troubled" by the alleged mistreatment of employees during the ICE raids.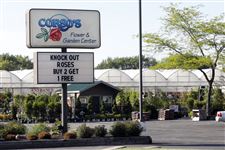 U.S. Immigration and Customs Enforcement (ICE) made a surprise raid Tuesday at Corso's Flower & Garden Center in both the Sandusky, pictured, and Castalia locations.
The Blade/Katie Rausch
Enlarge | Buy This Image
ICE has not responded to multiple requests for comment.
"It is our hope that federal authorities will work diligently to ensure minimal disruption to families of our employees as they execute their orders," the statement read in part. "If mistakes were made or if anyone used false, fraudulent, or otherwise disingenuous identification documents or other documents to secure employment at Corso's, the company was not aware of those things."
Tuesday, ICE agents swarmed two locations of the gardening company in Sandusky and Castalia, arresting 114 immigrants. Witnesses said that officers handcuffed citizens and noncitizens alike, pointing guns at the detainees. The ensuing chaos left 60 children without at least one parent, according to those organizing assistance for the families separated from loved ones.
RELATED CONTENT: Statement by Corso's Flower and Garden Center ■ Witnesses recall immigration raid ■ Activists rush to provide aid for those detained by ICE
Along with the more than 100 immigrants, ICE agents took with them computers and files from the gardening center. Officials are investigating whether a potential network recruited migrant workers to Corso's, and it remains unclear whether the owners will be prosecuted.
During the raids, ICE executed search warrants related to an ongoing criminal investigation into the company, according to Mike Tobin, a spokesman for the U.S. attorney's office for the Northern District of Ohio. He said Martha Buendia-Chavarria, 44, was indicted for providing counterfeit documents to workers last October, which officers traced to Corso's.
Now, the fate of the company that employed those immigrants is unclear. In the wake of the Trump administration's recent crackdown on companies employing illegal immigrants, national legal rights organizations have released guides on how employers should prepare and respond to ICE raids. One guide published by the National Employment Law Project and the National Immigration Law Center instructs employers to make a written response plan ahead of time and to tell their workers not to speak with ICE agents.
Recommending that employers hold "Know Your Rights" trainings for workers, the guide instructs, "Employers have rights when ICE goes to a business. ICE agents do not always have a right to enter your business, stop or arrest your workers, or take documents."
Baldemar Velasquez, president of the Farm and Labor Organizing Committee, has led local activists' response to the raids. He plans to facilitate longer-term training opportunities that he hopes will educate the area's immigrant community on their rights. For example, he said, ICE agents cannot enter a home without a warrant, and individuals can decline to speak without a lawyer present.
Mr. Velasquez added that employers almost always know that their workers are undocumented.
"All these employers just look the other way," he said. "It's just their version of 'Don't Ask, Don't Tell.'"
In 1986, then-U.S. President Ronald Reagan signed into law the Immigration Reform and Control Act, which required employers to verify workers' immigration status by completing an I-9 form and made it illegal for employers to knowingly hire or recruit those residing in the United States illegally.
The legislation received bipartisan support from congressmen across the aisle, along with President Reagan, in November, 1986. But the document processing system, now an online program E-Verify, is a voluntary program, and only some states mandate that employers use the service, according to the Homeland Security website.
And employers oftentimes do not fill out the E-Verify system, Mr. Velasquez said.
Companies can use a veil of a third party to hire workers so that the business can claim that a hiring agency was responsible for employing the workers, said Jeffrey Cohen, an immigration expert and Ohio State University professor. Workers themselves are regularly sold fraudulent documentation without their knowledge when they enter the United States, Mr. Cohen added.

In response to the raids, some lawmakers, such as U.S. Rep. Jim Jordan (R., Urbana, Ohio), emphasized the importance of enforcing "the laws on the books." Others argued that the raids were evidence of a broken immigration system.
Some elected officials, activists, and lawyers have rallied to support the Hispanic community, holding news conferences to condemn the raids that separated families. Those community members continue to work with lawyers to make contact with detainees.
Contact Hailey Fuchs at hfuchs@theblade.com , 419-724-6050, or on Twitter @Hailey_Fuchs.
Guidelines: Please keep your comments smart and civil. Don't attack other readers personally, and keep your language decent. Comments that violate these standards, or our privacy statement or visitor's agreement, are subject to being removed and commenters are subject to being banned. To post comments, you must be a registered user on toledoblade.com. To find out more, please visit the FAQ.