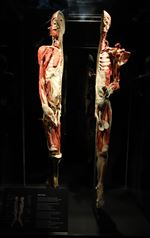 Perfect symmetry of a body split in half at the Body Worlds RX exhibit at the Imagination Station in Toledo.
The Blade/Lori King
Enlarge | Buy This Image
Body Worlds Rx opens at Imagination Station on Friday. The exhibit features human bodies and organs, preserved through a process known as plastination, as a means of illustrating how common diseases and ailments affect various body systems.
The exhibit is open during science center hours: 10 a.m. to 5 p.m. Tuesday through Saturday and noon to 5 p.m. Sunday. Exhibit admission is $7 for members and $9 for nonmembers.
Body Worlds Rx remains open through Labor Day. For more information, go to imaginationstationtoledo.org.
■ Claire's Day is celebrated with authors, illustrators, and reading-minded children's activities on Saturday at the Toledo Lucas County Public Library, 325 N Michigan St. The Maumee Branch Library, 501 River Rd., Maumee, celebrates Claire's Day on May 19.
Claire's Day is an annual children's book festival in honor of Claire Lynsey Rubin, a 10-year-old book-lover who died unexpectedly of a heart condition in 2000. Her family has been promoting reading in the region through Claire's Day festivals and related outreach since 2002.
Free activities at the downtown library run 9 a.m. to 4 p.m. For more information, go to clairesday.org.
■ Schedel Arboretum and Gardens in Elmore, Ohio, hosts a Schedel Community Day Festival on Saturday. Attendees can expect demonstrations by Packer Creek Pottery of Genoa and Elmore Cycle and Fitness, as well as vendors, live music, family-friendly activities and access to the grounds.
Schedel Community Day Festival runs 10 a.m. to 2 p.m. rain or shine. The arboretum is at 19255 W. Portage River South Rd., Elmore. In lieu of admissions, attendees are asked to bring a canned good, especially meats, to benefit the Elmore Food Bank.
For more information, go to schedel-gardens.org.
■ The Mersey Beatles bring Beatlemania to the Ohio Theatre and Event Center at 7 p.m. Friday.
The Liverpool-based tribute band was the resident band for more than a decade at the Cavern Club, in Liverpool, where the Beatles got their start. Their Friday show promises 30 of their namesake's greatest hits from all eras.
The Ohio Theatre is at 3114 Lagrange St. For tickets, $27 to $47, and more information, go to ohiotheatretoledo.org.
Guidelines: Please keep your comments smart and civil. Don't attack other readers personally, and keep your language decent. Comments that violate these standards, or our privacy statement or visitor's agreement, are subject to being removed and commenters are subject to being banned. To post comments, you must be a registered user on toledoblade.com. To find out more, please visit the FAQ.