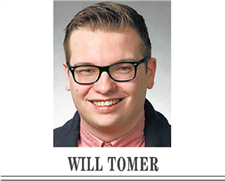 Will Tomer
THE BLADE
Enlarge | Buy This Image
I am deleting my Facebook account.
Yes, I've joined the growing chorus, eager to show my dissatisfaction with Facebook's reckless data collection practices. Witness Facebook's tumbling stock price — the company's market cap fell by more than $100 billion between February and the beginning of April, and most of that fall occurred late into March — as public understanding of Facebook's policies has grown.
Read last week's column from Will Tomer
But, as Internet users all over the world grapple with Facebook's unethical business practices, it is important to remember the scope of this problem is far greater than most of us realize, and to know Facebook is not the only tech giant collecting and mining personal data on a massive scale.
It may not surprise you to know that Facebook has kept logs of every picture, message, and video you've ever uploaded onto the site. What may surprise you is that Facebook has generated a profile of interests based on your usage of its site and the sites you visit after you've been on Facebook. It may also surprise you to know that, unless you've carefully calibrated your settings, Facebook likely has records of everything from your phone calls to your geographical locations.
After bowing to international outrage and offering a weak apology, Facebook recently responded to criticism by insisting users had agreed to intrusive data collection schemes in acquiring access to its products and services. However, in a Washington Post op-ed, Cornell University's Ifeoma Ajunwa has pointed out that while consumers bear responsibility for their choices, Facebook's changing terms of service and its lack of information about data governance leave consumers in the dark about its collection practices.
While Facebook is beginning, we hope, to change its data collection policies and ensure its users at least a modicum of real privacy, it is important to remember Facebook is by no means the only company acquiring and exploiting enormous amounts of user data.
In an enlightening Twitter thread, independent data consultant Dylan Curran highlighted some of the many ways Google siphons data from users who have accepted the default privacy settings.
Do you use Google to search online? Google creates a search history linked to your Google account and all the devices that have access to the account, meaning your computer, your smartphone, your television, and more. Google also compiles a profile of consumer preferences based on your searches, the contents of your email messages (if you use Gmail), your Google Hangout sessions, and what you read via Google News or through other services you access via the Google Chrome web browser. Do you use Google Maps? Google has a record of everywhere you've been and at what time.
Do you have the "right to be forgotten"? Perhaps, but much like your search history, Google also has data about any photo, video, or message you thought you had deleted.
RELATED: Tech giants should not be trusted with free expression
The problem does not begin or end with Facebook and Google. Twitter has accumulated vast stores of data on its users, which you can also request. Amazon may collect more data than any other company, not only as you purchase products through its website, but anytime you visit a website powered by Amazon Web Services, which handles the lion's share of modern Internet traffic.
To what extent do Amazon, Google, or Twitter profile their users? More important, how are those profiles being used, and by whom are they being used?
These companies regularly proclaim that they protect the privacy of their users, but there are reasons to be skeptical of those claims on their face — most users have little or no knowledge of what data is being collected or how it is being used by the company that is gathering it. Consumers have no idea how to secure this data, no knowledge of its sale to third parties or the right to object in the event that such sales become known, and have no right to know when personal data has been compromised.
Moreover, consumers have no knowledge of the relationship between these companies and intelligence agencies, nor do they have any idea how the exchange and use of personal data affects their civil liberties.
EDITORIAL: Facebook's reality check
What are likely to be the best remedies?
Consumer education is often cited as an important part of any solution. It is clear that Internet users need to be more aware and more astute, but most observers would agree that better educating users is not a wholly sufficient remedy.
It's been suggested that, in the U.S., the Justice Department should break up companies like Amazon and Google. That might help in the short term, and punishing the "bad guys" has an emotional appeal. But it is an approach that misses the larger need, which is to provide the users of distributed digital information services with guarantees and protections regarding the collection and use of personal data that are not currently available under federal law.
Suggesting that we need an information consumer's bill of rights may be the easy part. Creating legislation that would protect consumers and provide them with rights that are both explicit and meaningful will be a formidable task, given the complexity of the digital information environment and the depressing fact that our solons are not always invigorated by genuine challenges.
But asking the right questions and formulating the right policies about digital data collection and privacy and the rights of users are absolutely essential tasks, and one to which our lawmakers should give their undivided attention.
Contact Will Tomer at wtomer@theblade.com, 419-724-6404, or on Twitter @WillTomer.
Guidelines: Please keep your comments smart and civil. Don't attack other readers personally, and keep your language decent. Comments that violate these standards, or our privacy statement or visitor's agreement, are subject to being removed and commenters are subject to being banned. To post comments, you must be a registered user on toledoblade.com. To find out more, please visit the FAQ.