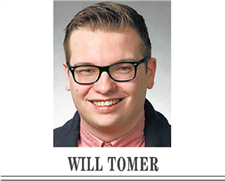 Will Tomer
THE BLADE
Enlarge | Buy This Image
Privacy — the idea that each individual is entitled to freedom from the prying eyes of the government, corporate entities, and other people — is in real danger.
Hardly a month goes by without a major company losing control of users' personal data. Or there is a new revelation about the government spying on American citizens. Curiously, most citizens do not seem to be upset by these revelations.
There are the high-profile cases like the revelation that Facebook improperly shared the data of 87 million users with the controversial political consulting firm Cambridge Analytica. This incident created enough controversy to compel Facebook founder and CEO Mark Zuckerberg to testify before Congress in April. But the political heat has dissipated and Facebook's stock price has rebounded after dropping sharply in the wake of reports about Cambridge Analytica's use of Facebook data.
There are equally important, but less controversial cases, such as that of Equifax, a consumer credit reporting agency that had been unknown to most Americans until its system was breached by hackers in 2017. In the Equifax case, more than 143 million people had their personal data — including their full names, Social Security numbers, and driver license numbers — stolen. The problem with the Equifax case, and others like it, is that broader public interest is almost never sustained.
Then, of course, there are the federal programs that have been used to collect massive amounts of electronic data from and about American citizens. Much of what we know about the current U.S. government surveillance apparatus, as well as intimate details as to how that apparatus works, is the product of reporters such as James Bamford and whistleblowers like Edward Snowden.
Mr. Snowden's leaks revealed that these government programs, ostensibly set up to protect the United States from terrorism, were used to gather the phone and Internet records of billions of people worldwide, including U.S. citizens.
The story dominated headlines when it broke, as President Barack Obama and officials within his administration were forced to admit they had lied about the scope of these programs and how they operated.
Since then, however, U.S. citizens' interest in reclaiming civil liberties has relaxed. Instead, according to a 2016 Pew Research Center study, nearly half of the country believed that "anti-terrorism policies," including warrantless surveillance, had not gone far enough. The same survey revealed that only 33 percent of the respondents felt these same policies had undermined civil liberties.
In the aftermath of the Facebook data breach, many commentators pointed out that Facebook users willfully hand over enormous amounts of personal data — familial relations, employment history, geographical location, facial recognition, voter registration — all to utilize a social networking site.
Similarly, when consumers are asked why they tolerate invasive government policies, many of them point to the threat of terrorism. After all, the average person hasn't done anything wrong. "I've got nothing to hide," they'll say.
This attitude is reflected in the aforementioned 2016 Pew study. While 90 percent of Americans still believe that their Social Security number is a sensitive piece of information, only 55 percent believe that their health records are as well. Only slightly more than half the country believes that their phone conversations, email messages, and details of their geographical movements are "very sensitive." Less than 50 percent believe the contents of their text messages include sensitive information.
What accounts for these attitudes? At one point in time, citizens protected their privacy zealously and surrendered personal information with great reluctance. Giving someone your address and phone number was a big deal. Giving a third party access to all your messages and movements would have been unthinkable. What has changed? And why has it changed so dramatically?
MORE: House Dems show true colors with government surveillance vote
The answer is multi-layered, complex, and convoluted.
Part of it may be attributed to the corrosive effects of long standing public policies that favor national security concerns at the expense of civil liberties.
While the Cold War-era saw many government infringements on personal privacy, it was the combined effects of the tragedy of 9/​11, the ubiquity of the Internet, and the inadequate security of most computer systems that allowed the U.S. government to violate the personal privacy and civil liberties of American citizens with seeming impunity.
Another part is the product of a misguided complacency about the nature and requirements of citizenship and an indifference to the workings of government, politics, and social change. Many citizens have been persuaded that their privacy no longer matters, in the process ignoring a painful historical lesson: that if you allow the government to violate the civil liberties of others with no protest, it is only a matter of time before they trample your civil liberties as well.
Yet a third element is the product of a media landscape in which information, knowledge, and wisdom are habitually confused and consumers are increasingly uncertain about what to believe or not believe.
The point of this piece? As fascinating as public spectacles like Stormy Daniels versus Donald Trump may be, we need to set aside the distractions and focus on fundamental questions, one of them being how we guarantee personal privacy.
The issue of privacy is fundamentally important. It cannot be an issue of occasional or incidental interest. It needs to be at the center of public discourse about government and our use of utilities like the Internet.
Is it possible to restore personal privacy in the digital era? Is it possible to balance the interest of privacy and security? If anything is clear, it is that affirmative answers to these questions will require a deeply involved citizenry.
RELATED: We need an information consumer's bill of rights
Where can that process begin?
Alert social networking sites that you will not allow them to risk your data anymore by deleting your account or rolling back your usage. Also take measures to remove as much of your personal information as you can.
Demand that companies which risk your personal data are held accountable for their actions.
Tell your congressional representative to vote against measures authorizing the warrantless collection of data, from anyone.
Is privacy dead? Perhaps not, but it is in a perilous state. That doesn't mean it can't be restored, however. People just have to care.
Contact Will Tomer at wtomer@theblade.com, 419-724-6404, or on Twitter @WillTomer.
Guidelines: Please keep your comments smart and civil. Don't attack other readers personally, and keep your language decent. Comments that violate these standards, or our privacy statement or visitor's agreement, are subject to being removed and commenters are subject to being banned. To post comments, you must be a registered user on toledoblade.com. To find out more, please visit the FAQ.