Chicago: The Musical is bringing "All that Jazz" back to Toledo in performances at the Valentine Theatre on Saturday and Sunday.
The original Broadway production, titled Chicago: A Musical Vaudeville, set in the Jazz Age Chicago of the 1920s, opened in 1975, with music by John Kander, lyrics by Fred Ebb, and choreography by Bob Fosse, with a book by Fosse and Ebb. Chicago is based on a 1926 play of the same name by a Chicago Tribune reporter, Maurine Dallas Watkins, about the actual criminals and crimes on which she reported.
In 1996 a Broadway revival, Chicago: The Musical, directed by Walter Bobbie with choreography "in the style of Bob Fosse" by Ann Reinking, won six Tony Awards, including best revival of a musical, best director of a musical for Bobbie, and best choreography for Reinking.

The storyline of Chicago features nightclub performer Velma Kelly who was arrested for murder, after she found her husband in bed with her sister and killed both of them.
Meanwhile, Roxie Hart, a wannabe performer, shoots and kills her lover, Fred Casely, when he didn't keep his promise to help her career. Roxie tells her husband, Amos, that Fred was an intruder she shot in self-defense, and talks Amos into taking the blame. He agrees, until the police arrive and tell him Fred was not an intruder but Roxie's lover.
Roxie is arrested and taken to jail, where Velma is already in residence and has hired smooth-talking lawyer Billy Flynn to defend her — perhaps the publicity will make her famous, she thinks.
But Billy decides to take Roxie's case too, making both women the center of a media circus in a battle for celebrity and fame, and Roxie is coming on strong.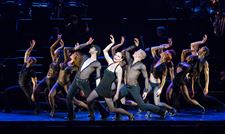 Terra C MacLeod as Velma Kelly in 'Chicago.'
PAUL KOLNIK Enlarge
Returning to the Valentine in the role of Velma Kelly in the national tour is Terra C. MacLeod, a native of Montreal who has appeared in theater, television, and film roles. Her Chicago credits include playing Velma on Broadway, originating the role in the world French premiere of Chicago in Paris, and in national and international tours of the musical. She last appeared in Chicago at the Valentine in 2017.
MacLeod recently had the opportunity to be co-director of Chicago in San Diego, and to play Roxie, "and I have a point of view as Velma and how she sees Roxie." The actress considers the character of Velma as strong and resilient. "The fact is she committed murder; but she had heart and she was wounded. Roxie is manipulative and self-serving."
For an actress, the writing of Chicago "is so good," she said. "It's one of those shows where, every time I come back to it I discover a new layer of the character and of the show. I never get tired of it. ...
"In Chicago, the dancers use their bodies to tell the story, the players on stage get to tell the story through movement and through song, and the band is onstage with you."
"And I just love dancing in the style of Fosse and bringing his work to the stage."
Bringing this show to audiences around the world has been a blessing in many ways, she said.
MacLeod said she hasn't kept a count of the number of her appearances in the musical. "But there are maybe two states I haven't been to, two provinces we haven't touched in Canada, and it's just played all over the world; I think I've done Chicago in more than 10 countries overseas, I've opened it in France, we were in the first original French company.
"I've seen the world and been able to take in the sights of the world because the show has given me the opportunity to travel."
The show has staying power because, on the artistic level. "It's John Kander and Fred Ebb's music, which is classic and beautiful and has such a colorful palate," MacLeod said, "And you have Bob Fosse's dancing, you're seeing a masterpiece of work upon that stage, and to see all of that live, and to see what has been passed down to us dancers and performers, it's kind of rare to see that.
And the message is timeless, especially in the climate of the country today. It can be seen as a commentary on society, [asking] is justice always served?
"It's also a vaudeville piece, so it 'has a little vaudeville flair' and makes you laugh at the same time," she said.
It's difficult for MacLeod to pinpoint a personal favorite or an audience favorite among the show's songs. "It's all relative to what's happening in that moment onstage," she said. "But there's iconic songs like 'All That Jazz,' or 'Cell Block Tango' ... people cheer before the number even starts. And people love the opening, 'All That Jazz'; it's an invitation to our world."
Performances of "Chicago" are Saturday at 8 p.m. and Sunday at 2 p.m. at the Valentine Theatre, located at the corner of Superior and Adams Streets. Tickets range from $49 to $89 and are available at 419-242-2787, valentinetheatre.com, and at the box office, open 10 a.m. to 5 p.m. Monday through Friday.
Contact Sue Brickey at: sbrickey@theblade.com.
Guidelines: Please keep your comments smart and civil. Don't attack other readers personally, and keep your language decent. Comments that violate these standards, or our privacy statement or visitor's agreement, are subject to being removed and commenters are subject to being banned. To post comments, you must be a registered user on toledoblade.com. To find out more, please visit the FAQ.