3-B Productions is at it again. After the success of last fall's performances of The Rocky Horror Show, the musical that was the inspiration for the 1975 film The Rocky Horror Picture Show, 3-B will return to the cult classic with five performances beginning Saturday.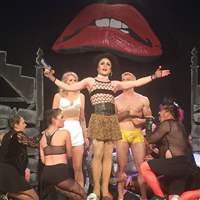 After a successful show last season, 3-B Productions returns to the stage with the cult classic 'The Rocky Horror Show.' Performances are set for Saturday and Nov. 9-10.
The musical's storyline follows a wholesome, naive young couple, Brad Majors and his fiancée, Janet Weiss, who plan to visit one of their old professors. Unfortunately they get caught in a storm and instead come to the home of a mad scientist, Dr Frank-N-Furter, who shows his new creation, a monster in the form of an artificially made, attractive muscle man named Rocky.
Like last year's shows, 3-B plans to offer an interactive experience that is "so much fun," said 3-B's Joe Barton, the show's artistic director and costume designer.
Audiences are likely to come in costumes, and 3-B has prepared a list of the props that will be permitted at the shows: People will probably be tossing playing cards during the song "I'm Going Home" when Frank sings "cards for sorrow, cards for pain" and rolls of toilet paper when Brad cries out "Great Scott." Expect to be blowing bubbles (no rice is allowed) at newlyweds Ralph Hapschatt and Betty Munroe at the beginning of the show, and more bubbles at the end of "I Can Make You A Man (the Charles Atlas song)." There will be the sound of noisemakers during the creation speech, and snapping rubber gloves like Frank does during and after that creation speech, and bell-ringing during the song "Planet Schmanet — Wise Up Janet Weiss" when Frank sings "did you hear a bell ring?"
Lighters won't be allowed, but flashlights and glow sticks are, to light up the theater during the "there's a light" verse of the song "Over at Frankenstein's Place." Newspaper can be used to cover your head like Janet did when caught in the rainstorm. Water guns are not permitted, but audiences might get wet, thanks to the cast, during the rainstorm Brad and Janet encounter. Toast is not allowed either.
"Everybody has a little bit of freaky crazy in them and like to let it out once in awhile," Barton said of the show's popularity.
The cast includes Emily Popp as the Belasco Popcorn Girl (Trixie), Courtney Austin as Janet, Bradley King as Brad, Durrell Johnson as Narrator, Matt Badyna as Riff-Raff, Shannon Ruhe as Columbia, Mara Conner as Magenta, Dylan Coale as Frank, Tanner DuVall as Rocky, Zachary Rohtert as Eddie, and Patrick Davis as Doctor Scott. The music director is Janine Baughman. Jesse Bernal is the show's producer, and Michelle Johnson is ticket and business manager.
3-B Productions will present The Rocky Horror Show on Saturday at 7 p.m. and midnight at the Maumee Indoor Theatre, 601 Conant St., and at 8 p.m. Nov. 9, and Nov. 10 at 7 p.m. and midnight at the Toledo Repertoire Theatre's 10th Street Stage, 16 10th St. Tickets, $17, are from 419-270-5071 and 3bproductions.org.
It's magic
THE Illusionists – Live From Broadway, will be presented Thursday at 7:30 p.m. at the Niswonger Performing Arts Center in Van Wert.
The five illusionists mix magic, live music, comedy and dancing in a show for all ages. Tickets, $40 to $65, are from npacvw.ticketforce.com, at the box office, 10700 SR 118 S, and 419-238-6722.
Improv classes
Glass City Improv's next round of classes begin Tuesday, Wednesday, and Oct. 18 at Studio A of the Valentine Theatre, located on Adams Street around the corner from the main entrance.
Classes continue for eight weeks and end with a class performance.
Level 1 classes, no experience required, will meet at 6:30 p.m. Oct. 18 . Level 2 classes, improv or theater experience needed, will meet beginning Tuesday at at 6:30 p.m. Level 3 classes meet Wednesday at 6:30 p.m. The class is full.
Registration is available at glasscityimprov.com.
UT Auditions
The University of Toledo department of theater will hold auditions for two productions this fall.
The first auditions, for the play The Pillowman, will be from 6 to 9 p.m. Oct. 22-23.
The second set, for the musical Into the Woods, will be from 6 to 9 p.m. Nov. 13-14. All of the auditions will be held in the UT Center for Performing Arts in the Studio Theatre. Parking is free during the auditions.
Auditions are open to everyone; it is not necessary to be a University of Toledo student.
For The Pillowman auditions, participants should prepare a one-minute monologue that must be completely memorized.
For Into the Woods, they must prepare a theater song. Scripts are available in the department office for 24-hour loans. Sign-up sheets and audition forms are posted on the production call board near the dressing rooms in the Center for Performing Arts. Audition forms can be filled out in advance, but must be brought to the audition. Additional audition forms will be available the evening of auditions.
Performances for Into the Woods are April 5-20. Performances for The Pillowman will be Feb. 1-10. Rehearsal schedules will be determined after the shows are cast.
For more information on auditions, contact Christopher Montpetit at 419-520-4776 or Christopher.Montpetit@utoledo.edu.
Guidelines: Please keep your comments smart and civil. Don't attack other readers personally, and keep your language decent. Comments that violate these standards, or our privacy statement or visitor's agreement, are subject to being removed and commenters are subject to being banned. To post comments, you must be a registered user on toledoblade.com. To find out more, please visit the FAQ.