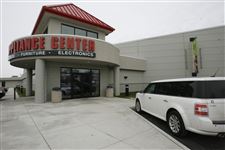 The Appliance Center in Maumee. A new Appliance Center will open soon in Sylvania, and a job fair to staff that location is slated for Friday and Saturday.
THE BLADE
Enlarge | Buy This Image
The Appliance Center , which is opening a new store in Sylvania, is holding a job fair on Friday and Saturday at 5660 Monroe St., a building next to the not-yet-opened store.
For the Living Appliance Center, which is to open next month, the business wants job applicants to show up from noon to 6 p.m. Friday and 10 a.m. to 5 p.m. Saturday. Jobs are in the sales, customer service, warehouse/​delivery, interior design, kitchen design, and appliance service areas.
For more information, call 419-729-5377 or go online to ShopAC.com.
Guidelines: Please keep your comments smart and civil. Don't attack other readers personally, and keep your language decent. Comments that violate these standards, or our privacy statement or visitor's agreement, are subject to being removed and commenters are subject to being banned. To post comments, you must be a registered user on toledoblade.com. To find out more, please visit the FAQ.