Toledo-based Balance Pan-Asian Grille, a fast-casual restaurant chain started by two University of Toledo grads, is expanding to downtown Toledo in a revolutionary manner — something that fans of Balance have come to expect of owners Prakash Karamchandani and HoChan Jang.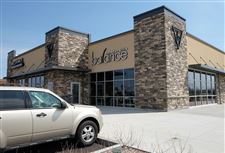 Balance Pan-Asian Grille restaurant in Perrysburg. The fast-casual chain started by UT grads plans to open a fourth restaurant later this year in downtown Toledo.
The Blade
Enlarge | Buy This Image
The two men said Thursday that by year's end they will open their fourth restaurant at 215 N. Summit St. in retail space that is part of a parking garage attached to the Tower on the Maumee office building, formerly the Fiberglas Tower.
But next to the 2,300 square foot restaurant the owners plan to build an 8,000-square-foot urban indoor aquaponics farm that will grow enough vegetables, fish, and shrimp to supply their soon-to-be four area restaurants.
"We will grow product and 70 percent of it will be used in our restaurants. The rest we will sell to restaurants in town and in Ann Arbor," said Mr. Karamchandani. "We're going to pull out a lot, tons of produce once this gets going."
The aquaponics farm, which has gotten the necessary permits and approval, is a self-contained symbiotic system that uses water and fish and shrimp to grow produce. It will take about six months to become fully operational.
Aquaponic systems recirculate water from a fish tank through a vegetable bed. Nutrients from the fish waste feed the plants, and the plants filter the water to keep the fish healthy.
Mr. Karamchandani said the Balance operation will use tilapia and prawns, and it will grow all types of leafy greens, any type of fruiting vegetable (such as brussel sprouts), all types of peppers, and herbs. Prawns can be harvested for use in Balance menu items, but the chain does not use fish.
Mr. Karamchandani said he and Mr. Jang have been thinking about using aquaponics for over a year.
Under their plan, they can harvest fresh produce at 8 a.m., pack and distributed it to their restaurants by 10 a.m., and serve it in food items by 11 a.m.
"It makes a lot of sense to combine the farm with the restaurant. The pricing market for food and ingredients shifts. Volatility is still there," Mr. Karamchandani said. "The beautiful thing about a farm is it's organic, which we like to do, but it also stabilizes pricing."
Lastly, it fits in Balance's philosophy, he added. The two owners started the chain in 2009 with the idea of creating something different — a menu of inexpensive dishes served fast and made with high-quality foods and ingredients from a variety of Asian cultures.
The aquaponics garden "just ties totally into our concept and helps us achieve our mission," Mr. Karamchandani said.
The two men have been working to get their project going since mid-2016. They credited their new landlord, the Eyde Co., and the city of Toledo for helping bring their urban farm idea to fruition.
"There were some complications but our landlord, the Eyde Co., they've been amazing partners. And the city has been amazing," Mr. Karamchandani said.
"Toledo sometimes can be a difficult place to do things. But this was the only place we could have got this done," he added.
Contact Jon Chavez at jchavez@theblade.com or 419-724-6128.
Guidelines: Please keep your comments smart and civil. Don't attack other readers personally, and keep your language decent. Comments that violate these standards, or our privacy statement or visitor's agreement, are subject to being removed and commenters are subject to being banned. To post comments, you must be a registered user on toledoblade.com. To find out more, please visit the FAQ.