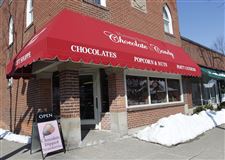 Maumee Valley Chocolate is one of the businesses taking part in Maumee's uptown open house.
The Blade
Enlarge | Buy This Image
Several businesses in uptown Maumee once again take part Sunday in the Maumee Uptown Business Association's annual Holiday Open House.
The event will run from 1 to 4 p.m., and shoppers can take free samples and enter to win prizes at several stores. Special discounts will be offered to holiday shoppers who participate in the event. Businesses taking part include Clara J's Tea Room and Neapolitan Gifts, Georgette's Grounds and Gifts, You Can Be An Artist, Prism Glassworks, and Maumee Valley Chocolate.
Guidelines: Please keep your comments smart and civil. Don't attack other readers personally, and keep your language decent. Comments that violate these standards, or our privacy statement or visitor's agreement, are subject to being removed and commenters are subject to being banned. To post comments, you must be a registered user on toledoblade.com. To find out more, please visit the FAQ.