A Michigan bank and two northwest Ohio credit unions saw their financial ratings improve while two credit unions in northwest Ohio were downgraded in a new quarterly report by a Florida financial data firm.
According to the report by BauerFinancial Inc., an independent research firm that rates financial institutions based on stability and strength, County National Bank in Hillsdale received a fifth star and earned a "superior" rating in the third quarter. It previously had a four-star "superior" rating.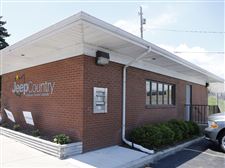 Jeep Country Federal Credit Union, which recently received a five-star rating from BauerFinancial Inc.
THE BLADE/JEREMY WADSWORTH
Enlarge | Buy This Image
Bauer-Financial, of Coral Gables, Fla., rates banks and credit unions nationwide on a scale of zero to five stars, with zero stars being the lowest.
Jeep Country Federal Credit Union, located in Holland, was one of the two credit unions whose rating improved to five stars from a previous four-star "excellent" rating. The other credit union to gain a fifth star in the report was Erie Community Federal Credit Union in Sandusky. It too previously was rated four stars.
Focus Federal Credit Union in Toledo was among the two who dropped. It went from four stars to a three-star "adequate" rating, according to BauerFinancial. The data firm also downgraded Local 50 Plumbers and Steamfitters Federal Credit Union, of Northwood, to four stars from a previous five stars.
The ratings of all other banks and credit unions in both northwest Ohio and southeast Michigan remained unchanged in the third quarter.
BauerFinancial rated 44 credit unions and 29 banks in northwest Ohio, and four credit unions and three banks in southeast Michigan.
In northwest Ohio, the firm gave 25 credit unions a five-star rating, eight a four-star rating, four a three-star rating, two a two-star rating, and two a one-star rating. Three credit unions had insufficient assets to be rated.
It gave 22 banks in northwest Ohio a five-star rating, six a four-star rating, and one a two-star rating.
In southeast Michigan, two credit unions received five-star ratings while two others received four-star ratings. All three banks were given five-star ratings.
Contact Blade Business Writer Jon Chavez at jchavez@theblade.com or 419-724-6128.
Guidelines: Please keep your comments smart and civil. Don't attack other readers personally, and keep your language decent. Comments that violate these standards, or our privacy statement or visitor's agreement, are subject to being removed and commenters are subject to being banned. To post comments, you must be a registered user on toledoblade.com. To find out more, please visit the FAQ.