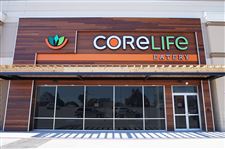 CoreLife Eatery on Monroe Street in Toledo in 2016. The fast-casual restaurant has opened a second area location in Maumee.
CoreLife Eatery, the "active lifestyle" fast-casual restaurant chain specializing in greens, grains, and broth-based dishes, is opening its second area restaurant and will host a Donation Day from noon to 7:30 p.m. Thursday to benefit Sunshine Communities.
Guests who visit the new location at 1399 Conant St. in Maumee can pay whatever they would like for their meal. All funds donated will go to Sunshine Communities, which supports individuals with intellectual and developmental disabilities.
The official opening of the new CoreLife Eatery's location will be Friday. The Vestal, N.Y.-based chain is on pace to open 300 locations in the next five years.
Guidelines: Please keep your comments smart and civil. Don't attack other readers personally, and keep your language decent. Comments that violate these standards, or our privacy statement or visitor's agreement, are subject to being removed and commenters are subject to being banned. To post comments, you must be a registered user on toledoblade.com. To find out more, please visit the FAQ.