SANDUSKY — Cedar Fair LP rolled to record revenues, attendance, and an in-park spending average by guests last year with all three contributing to profits that jumped by 21 percent.
The Sandusky-based company, which released its earnings on Wednesday, said its revenues in 2017 rose 2.6 percent to $1.32 billion on the strength of better fourth quarter sales bolstered by special events at many of its 11 amusement parks, three water parks, and four hotels.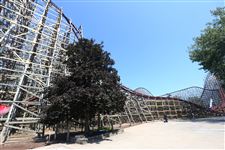 The Steel Vengeance coaster at Cedar Point. Cedar Fair LP recorded spikes in revenues, attendance, and an in-park spending last year.
The Blade
Enlarge | Buy This Image
In the fourth quarter, previously a slow period for Cedar Fair, revenues rose 19 percent to $228.1 million, up from $191.9 million in 2016.
For 2017, Cedar Fair's profits were $215.5 million, or $3.79 a share, up from $177.7 million, or $3.14 a share, the previous year. In the fourth quarter, its profits were $57.6 million, or $1.01 a share, compared to a loss of $6.8 million, or 12 cents a share, in the fourth quarter of 2016.
Richard Zimmerman, who became Cedar Fair's chief executive officer on Jan. 1 and had his first conference call Wednesday with Wall Street analysts in his new position as the company's chief strategist, said the company's strategy "has been leveraging its strength for near-term and long-term growth."
As of last year, Cedar Fair has been maintaining its adjusted earnings — a key metric for the chain. For 2018 it is again looking to achieve record results and continue its trend of 4 percent annual growth, he added.
The company faced inclement weather seemingly each weekend during its key months of July and August. But even so it had record attendance of 25.7 million guests, up 2 percent from 2016. And average in-park guest per capita spending rose 1 percent to a record $47.30.
Mr. Zimmerman attributed both to expanded special events in the fourth quarter. In the fourth quarter Cedar Fair expanded its Winterfest seasonal programs to three more parks and had an ongoing Canada 150th Birthday Celebration going on at its Toronto park, Canada's Wonderland.
The company plans to add Winterfest later this year at a fifth park, Kings Dominion in Virginia.
Brian Witherow, Cedar Fair's chief financial officer, said the company already is seeing positive trends for 2018 with increases in season pass sales, higher demand for its drink and dining plans, and reservations for its resort properties.
Mr. Zimmerman said Cedar Fair also launched a new multi-year marketing initiative last year that aggressively markets the company as a regional destination. The initiative, "Seasons of Fun," a play on its FUN ticker symbol, uses traditional marketing techniques but also is expanding more into the digital realm, the CEO said.
"We're trying to create an urgency to visit [the parks] several times a year," he said.
Many companies were affected by the new tax cut plan enacted Dec. 22, and Mr. Witherow said estimates indicate Cedar Fair will receive annual cash savings of between $10 million-$15 million from moving to a lower tax bracket of 20 percent.
In the near term, Mr. Witherow said, the company plans to re-invest its tax savings at its parks by adjusting to seasonal labor market pressures.
It plans to update its human resources management systems and possibly build dormitories at more of its parks.
"We've been in the process of evaluating the potential for dormitories at more parks," Mr. Witherow said. "This may allow us to prioritize those things quicker."
Wednesday on the New York Stock Exchange Cedar Fair stock rose 70 cents to close at $67.34 a share.
Contact Blade Business Writer Jon Chavez at jchavez@theblade.com or 419-724-6128.
Guidelines: Please keep your comments smart and civil. Don't attack other readers personally, and keep your language decent. Comments that violate these standards, or our privacy statement or visitor's agreement, are subject to being removed and commenters are subject to being banned. To post comments, you must be a registered user on toledoblade.com. To find out more, please visit the FAQ.