Annual sales at Dana Inc. grew 24 percent last year, the result of strong market demand and recent acquisitions that boosted overall revenues.
But profits at the Maumee-based auto parts manufacturer were down both in the fourth quarter and for the year in 2017 due to one-time tax changes that boosted the company's profits in 2016 and later suppressed its profits last year.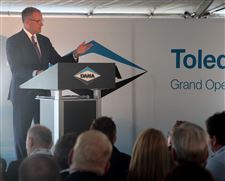 Dana President and CEO James Kamsickas speaks during the grand opening of the new Dana axle plant in Toledo on Oct. 25, 2017.
The Blade/Kurt Steiss
Enlarge | Buy This Image
Sifting past the financial whipsawing imparted by the tax changes, Dana president and CEO James Kamsickas said last year was a very good one for the company and 2018 looks to be even stronger.
"Due to the talents, dedication, and hard work of the more than 30,000 Dana associates, 2017 proved to be a fantastic year," the CEO said.
RELATED: Dana workers on strike at North Toledo manufacturing facility
For the full year, Dana had sales of $7.2 billion, an increase of 24 percent from $5.8 billion a year ago. Net income was $111 million, or 71 cents a share, down from $640 million, or $4.36 a share, in 2016.
For the fourth quarter, the company recorded a loss of $104 million, or 74 cents a share, compared with the fourth quarter of 2016 when profits totaled $485 million, or $3.34 a share. Fourth quarter sales were $1.8 billion, compared to $1.5 billion a year earlier.
That fourth quarter of 2016 was when Dana received a $501 million windfall from a one-time tax value reduction on some of its U.S. assets.
After getting a tax boon in December from 2016, the company was hit with a one-time non-cash tax bill of $186 million stemming from the new U.S. tax reform legislation that was signed on Dec. 22.
The company said that after adjusting earnings to exclude the two tax situations and other one-time items, net income in 2017 would have been $297 million, or $2.52 a share, while 2016 profits would have been just $214 million, or $1.94 a share.
While Dana's 2017 profits technically were down 84 percent from the previous year, they pleased Wall Street analysts by exceeding expectations. Four analysts surveyed by Zacks Investment Research were expecting an average of 53 cents per share.
In its earnings report Tuesday, Dana offered guidance for the rest of 2018 and said strong market and new business demands are pushing the company to an expected 6 percent sales growth this year.
Increased sales from its new business backlog are expected to add $300 million to revenues, while improved market demand will add $100 million.
On the New York Stock Exchange, Dana's shares fell $1.31 on Tuesday to close at $28.93 a share.
Contact Jon Chavez at jchavez@theblade.com or 419-724-6128.
Guidelines: Please keep your comments smart and civil. Don't attack other readers personally, and keep your language decent. Comments that violate these standards, or our privacy statement or visitor's agreement, are subject to being removed and commenters are subject to being banned. To post comments, you must be a registered user on toledoblade.com. To find out more, please visit the FAQ.