Gaming revenues at Ohio's four full-service casinos came in ever-so-slightly higher in February, led by improvements at the gambling houses in Toledo and Cincinnati.
The Ohio Casino Control Commission reported total statewide revenues of $67.6 million last month, up 0.6 percent from the prior year.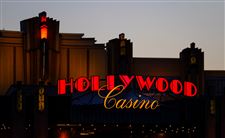 Hollywood Casino Toledo posted a slight rise in gambling revenues in February.
THE BLADE
Enlarge | Buy This Image
The biggest year-over-year improvement came from the Jack Cincinnati Casino, where gaming revenues rose 2.4 percent to $17 million. Revenues at the Hollywood Casino Toledo were up 1.3 percent to $15.7 million.
Revenues slipped at both the Jack Cleveland Casino — down 1.2 percent to $16.3 million — and the Hollywood Casino Columbus — down 0.5 percent to $18.6 million.
The monthly reports from the state only include revenue derived from gambling. Food, drink, merchandise, and event sales figures are not reported.
February represented a big improvement over a January, when statewide revenues came in at $63 million.
The state's seven racinos, which combine horse tracks with video slots, continued to outperform the traditional casinos last month. The Ohio Lottery Commission, which oversees those properties, said February revenues were up 1.5 percent to $79.5 million — even as flooding from the Ohio River closed Cincinnati's Belterra Park for 11 days.
Contact Tyrel Linkhorn at tlinkhorn@theblade.com, 419-724-6134, or on Twitter @TyrelLinkhorn.
Guidelines: Please keep your comments smart and civil. Don't attack other readers personally, and keep your language decent. Comments that violate these standards, or our privacy statement or visitor's agreement, are subject to being removed and commenters are subject to being banned. To post comments, you must be a registered user on toledoblade.com. To find out more, please visit the FAQ.