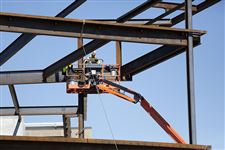 Tim Hartman, an Ironworker from Local 55, works on the third floor of the patient rooms being added to the Mercy Health Cancer Center.
THE BLADE/JETTA FRASER
Enlarge | Buy This Image
UNDER CONSTRUCTION
Construction is well under way for a 101,000-square-foot hospital, surgery center, and medical office building in Perrysburg by Mercy Health. It is a $56.3 million, three-story facility attached to the hospital system's Mercy Medical Center at 12621 Eckel Junction Rd., near State Rt. 25 and the I-475/​U.S. 23 interchange. The facility will include 28 inpatient general medical beds, plus 18 beds in its cancer center. Rudolph Libbe Inc. is the construction manager. The cancer center is to be completed by April and the overall project is to be finished by spring, 2019.
ACHIEVEMENTS
■ Cooper Tire & Rubber Co. of Findlay has named Christopher Ball as senior vice president of the company's North American tire operations, and Phil Kortokrax has been promoted from that position to senior vice president, Global Operations and Procurement.
■ Anne Roman, vice president, communications and public affairs for Cooper Tire & Rubber Co., Findlay, has been given a Women in Manufacturing STEP Ahead Award for 2018 by the Manufacturing Institute.
■ Linda Johnson has been named executive director of the new senior living development StoryPoint, 1470 Pray Blvd., Waterville.
Business Achievements, with news of management promotions, corporate board appointments, and awards, runs each week. Send announcements by email to business@theblade.com or by fax to 419-724-6147. Write "Business Achievements" in the message field.
CALENDAR
■ The Glass City Toastmasters Club's regular meeting is 5:30 p.m. Tuesday at the United Way Building, 424 Jackson St., downtown. Free and open to the public. Learn how to improve communication and leadership skills.
■ An Ohio State University dean is to speak at the Northwest Ohio Ag-Business Breakfast Forum at 8 a.m. Thursday a the Agricultural Incubator Foundation, 13737 Middleton Pike (State Rt. 582), Middleton Township. Speaker: Cathann Kress, OSU vice president for agricultural administration and dean of the College of Food, Agricultural, and Environmental Sciences. Cost: $10 in advance; $12 at the door. For RSVP and information, go online to ciftinnovation.org.
Notice of business meetings must be received by The Blade 10 days before the event. Email items to business@theblade.com or fax to 419-724-6147. Write "Business Calendar" in the message field.
CONVENTIONS
Listings include organizations, headquarters, and number of attendees expected as estimated by Destination Toledo:
Friday-Sunday — A. Phillip Randolph Institute Midwest Conference, Radisson at UTMC, 200, regional.
Friday-Sunday — Forty Frame Game Bowling Tournament, various properties/​Bowlero Lanes, 150, regional.
TRANSITIONS
■ First Federal Bank and First Insurance Group have opened new offices at 5520 Monroe St., Sylvania.
■ The White Family Cos., a Toledo area auto dealership group, has purchased four dealerships in Lancaster and Athens, Ohio from southeast Ohio-based Taylor Automotive Group, boosting the buyer to a total of 22 dealerships.
■ Dacor Internet Services, 725 Haskins Rd., Bowling Green, has a grand opening ceremony at 1:30 p.m. Thursday.
Business Transitions, which include business moves and openings, should be sent by email to business@theblade.com or by fax to 419-724-6147. Write "Business Transitions" in the message field.
Guidelines: Please keep your comments smart and civil. Don't attack other readers personally, and keep your language decent. Comments that violate these standards, or our privacy statement or visitor's agreement, are subject to being removed and commenters are subject to being banned. To post comments, you must be a registered user on toledoblade.com. To find out more, please visit the FAQ.