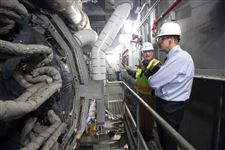 Peter Rigney, left, projects general manager, shows Rich Cordray, right, Democratic candidate for governor, the gas turbine in the Oregon Clean Energy Center during a tour on July 9, 2018.
The Blade/Amy E. Voigt
Enlarge | Buy This Image
Gubernatorial candidate Richard Cordray was in Lucas County on Monday visiting the Oregon Clean Energy Center, where he discussed the state's utility landscape with administrators at one of the region's new natural gas power plants.
The Democratic candidate and former Consumer Financial Protection Bureau director told the media that trailed him as he toured the plant that he supports energy diversity as a job creator and better option for the environment.
"We want to develop all of our resources because it means lots of good jobs and, as we've seen here, it supports the public school district and the public services in the area," said Mr. Cordray, who is running against Republican Mike DeWine, Ohio's attorney general.
"It keeps energy bills down for businesses and consumers and it encourages other businesses to come here," he added. "It's a win-win for the state of Ohio."
Opened last summer, the Oregon Clean Energy Center generates 870 megawatts on its 30-acre campus — enough to power 700,000 homes. The site has three generators, two powered by natural gas and a third powered by steam generated from the exhaust of the other two. Besides providing a cleaner form of energy than coal, the center says it represents an $800 million investment in the county that created thousands of jobs in its construction phase and dozens of high-paying jobs in the power plant's operation.
The visit was facilitated by Michael Beazley, Oregon's city administrator, who told Mr. Cordray the city has benefited from the new plant.
Mr. Cordray said one of his energy priorities is helping Ohio compete with other states following a freeze on renewable energy goals originally set by state lawmakers in 2008. The legislature reversed the freeze in 2016, after it had been in place for two years.
A commitment to diverse energy is something Mr. Cordray shares with his opponent.
"Generally speaking, Mike DeWine and John Huston think that reliable, low-cost energy for consumers should always be the driver of our public policy, and in that vein they've always been supportive of an all-of-the-above diverse energy strategy," Mr. DeWine's spokesman, Joshua Eck, said.
Contact Liz Skalka at 419-724-6199, lskalka@theblade.com, or on Twitter @lizskalka.
Guidelines: Please keep your comments smart and civil. Don't attack other readers personally, and keep your language decent. Comments that violate these standards, or our privacy statement or visitor's agreement, are subject to being removed and commenters are subject to being banned. To post comments, you must be a registered user on toledoblade.com. To find out more, please visit the FAQ.