MARYSVILLE, Ohio — A main street intersection in Marysville, Ohio, is allowing a tiny glimpse into a connected-car future.
As a specially equipped Honda Odyssey approached the intersection last week, the vehicle squawked loudly of an approaching ambulance and a heads-up display on the minivan's dashboard flashed an alert to the driver.
The warning happened a good 150 feet before the ambulance flashed into the intersection and came into view from behind buildings partially hiding the cross street.
The smart warning system inside a 2017 Honda Pilot goes off as another vehicle runs a red light during a demonstration in Marysville, Ohio.
THE BLADE/KATIE RAUSCH
Enlarge | Buy This Image
In two other scenarios showing off the new Honda "Smart Intersection" technology, the Odyssey driver easily braked in time to avoid a pedestrian crossing the street and a sedan blowing a red light.
"Saving lives" is at the root of Honda's technology and other connected-car efforts around Ohio, Gov. John Kasich said at the Honda Motor Co. event in remarks before the driving demonstrations.
"Connected car" is a broad term for vehicles communicating with infrastructure or each other to navigate the roads safely.
RELATED CONTENT: Toledo makes plan for driverless buses downtown
VIDEO: A look at Honda's connected cars on the streets of Marysville
The technology is the backbone for driverless or autonomous vehicles that car makers and many businesses expect will one day represent a big chunk of all miles driven.
Opinions vary greatly on how soon autonomous vehicles will be ready for prime time. Earlier this year ride-sharing service Uber halted driverless car testing in Arizona after one of its vehicles struck and killed a pedestrian. The human-assist driver in the car also failed to brake in time to avoid the collision.
After news of the fatality hit, public trust in the technology plunged 10 points, said Raj Kapoor, chief strategy officer at Lyft, the main riding-hailing competitor to Uber. Moreover, for half of the people commenting, the accident was their first exposure to the industry, said Mr. Kapoor, who participated on a connected-car panel last week in Detroit.
He was joined by Michigan Gov. Rick Snyder, Detroit economic development official Kevin Johnson, and Sherif Marakby, CEO of Ford's new autonomous vehicles company.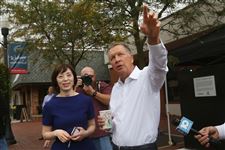 Honda R&D Americas, Inc., principal engineer Sue Bai, left, talks with Ohio Gov. John Kasich about new smart technology in Honda's cars.
THE BLADE/KATIE RAUSCH
Enlarge | Buy This Image
The accident, though a keen wake-up call, is informing rather than diverting investment to the industry, the panelists said. In fact, billions of dollars are pouring into connected-car and driverless car efforts as those in the industry view the emerging technology as not only a means of moving people, but goods as well.
Honda last week agreed to invest $750 million and another $2 billion over 12 years in General Motors' Cruise unit to jointly develop and deploy driverless vehicles.
Honda had been wooed for a partnership by another leader in the space, Waymo. Waymo is the autonomous-vehicle unit of Google and its parent Alphabet Inc.
The Honda investment in GM Cruise raised the valuation of the business to $14.5 billion. Waymo, which is busy piloting autonomous vehicles, may be worth as much as $175 billion.
Honda brings to the Cruise joint venture not only its capital investment, which bought an initial 5.7 percent stake in Cruise, but an expertise for maximizing the interior space of vehicles, said Honda spokesman Jeffrey Smith.
That will complement Cruise's leadership in connected-car software and a vehicle architecture for driverless cars that GM already is testing on city streets, he said.
"The partnership announcement with Honda, GM and Cruise is an expression that collectively we are going to head toward a collision-free society," Mr. Smith said. "What Honda is bringing is a unique sense of spatial management."
Lyft has 30 autonomous vehicles shuttling passengers around Las Vegas, Mr. Kapoor said. The experience has been rated a 4.8 of 5 stars by passengers, 96 percent of whom said they would ride again, he said.
To pay for the giant expense of developing and deploying driverless vehicles, they'll have to move people and product, Mr. Marakby said.
At Mcity
As a product development executive who returned to Ford in 2017 after a one-year stint with Uber, Mr. Marakby said Ford is concentrating on vehicle safety and development with road testing ongoing at the University of Michigan's Mcity track in Ann Arbor and the nearby American Center for Mobility 50 miles north of Toledo.
The test track is located on 500 acres at Willow Run, the historic airport where bombers were built for World War II.
Honda has made the intersection at Main and 5th in Marysville a test site for collision avoidance. To make the corner safer, which is tightly lined with buildings, Honda mounted four cameras above the intersection, then linked them to software capable of identifying objects in the road and alerting specially-equipped incoming vehicles to the hazards.
For example, the driver of the Honda demonstration vehicle was flashed an audio and visual alert of a pedestrian in the crosswalk before the car even rounded the corner. The Odyssey minivan had an antenna to receive the alert and a heads-up display on the windshield that flashed a small human figure to identify the obstacle.
Honda's goal is for a collision-free society, said Ted Klaus, vice president of strategic research at Honda R&D Americas in Marysville. Of the 37,000 people killed annually in the United States by car accidents, about 6,000 are pedestrians, he said.
That little slice of intersection safety cost Honda more than $50,000. It will cost hundreds of billions of dollars for driverless vehicle technology and to wire whole cities for them, analysts say.
That may not be as daunting as it seems if Honda and others use organizations like the statewide DriveOhio consortium, SmartColum and others to first share data among the players operating in the state, then outside Ohio, Mr. Klaus said.
Honda, he said, was a leader in developing crash dummies decades ago that eventually led to global standards.
"One of the challenging items is how do we move forward to real-world outcomes and share that," Mr. Klaus said.
Contact David Barkholz at dbarkholz@theblade.com or 419-724-6134 or on Twitter @barkholzatAN.
Guidelines: Please keep your comments smart and civil. Don't attack other readers personally, and keep your language decent. Comments that violate these standards, or our privacy statement or visitor's agreement, are subject to being removed and commenters are subject to being banned. To post comments, you must be a registered user on toledoblade.com. To find out more, please visit the FAQ.